Funko Round-Up: Voltron and Lord of the Rings!
Funko announces tons of new products and licenses every day, let alone every week. It can be a lot to keep up with. So we are here to help. Welcome to the Funko Round-Up! In this edition: Voltron gets a full wave of Pops, and the Lord of the Rings line gets a huge second wave of Pop figures! Let's take a look.
Defend the universe against the evil Galra Empire with a little help
from the Defender of the Universe, Voltron. The 6" Pop! is ready to do
its part to liberate the universe. Fortunately, Takashi "Shiro" Shirogane,
leader of the five Paladins of Voltron and Paladin of the Black
Lion is ready to do his part. Red Paladin Keith is present and eager to fight.
Katie "Pidge Gunderson" Holt is the Green Paladin and pilot of the Green Lion. Hunk is the pilot of the Yellow Lion and gentle giant of the Voltron team.
Lance, the Blue Paladin is the sharpshooter and comic relief of the group.
Allura, Crown Princess of Altea, serves as pilot and keeper of the Castle of Lions.
The glow in the dark Shiro is a Hot Topic exclusive, and the metallic 6 inch version of of Voltron is an Amazon exclusive. These will release in November.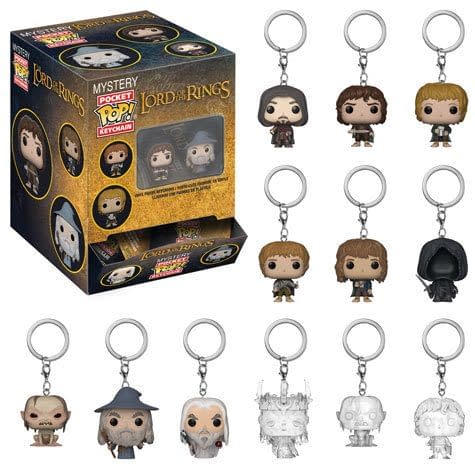 Lord of the Rings fans have quite a few to things to add to their collections. First, a wave of Funko Mystery Pocket Pop Keychains will be available, with twelve keychains to collect.
Eight new Pops will be available, Legolas and Gimli should have been in the first wave but I get why they weren't. Boromir, the Dunharrow King, and the Witch King are all awesome looking, and two versions of Galadriel will be available. A regular and the tempted by the ring version at Barnes and Noble. Elrond himself will be a Hot Topic exclusive.