Funko Shows Off Villains of 'Spider-Man: Far From Home'
Just a day after revealing their Avengers: Endgame products, Funko is continuing the MCU reveals this afternoon by revealing a bunch of Spider-Man: Far From Home products. Like Avengers, this wave will have Pops, Mystery Minis, pens, keychains, and plenty of exclusives. The sculpts on these villains are some of the best looking work they have ever done, and fans should be counting down the days until they can snag them. Let's take a look.
Three Pop Pens to start, of Spidey, Spidey in I think they are calling it a stealth suit, and Mysterio. Then, the Mystery Minis. Gamestop will have exclusives of Mysterio, Spidey and Molten Man, while Walmart will have exclusives for Mysterio, Spidey, and Hydro Man.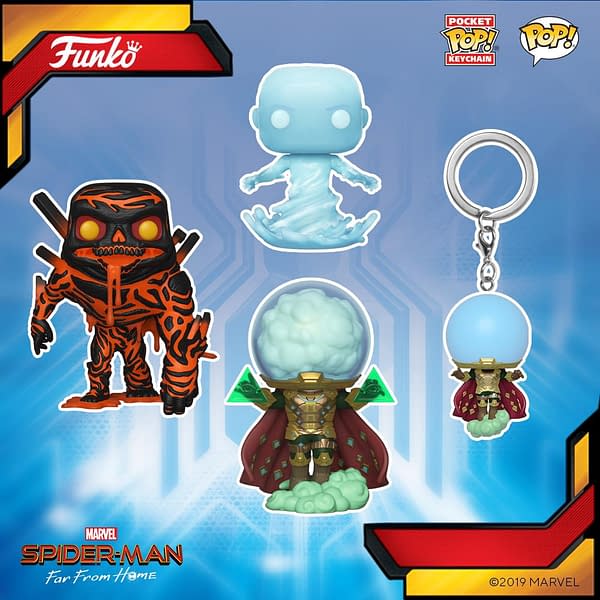 Since this wave is all about the villains of Far From Home, everything else focuses on them. Just look at that Mysterio sculpt. Could that be more perfect? I Love the fog effect in his helmet, and the green mist at his feet. Hydro Man looks sweet, and Molten Man is perfect. I love the little drip of lava coming out of his mouth, that's a nice touch.
Naturally, the exclusive versions of all three feature glow in the dark parts. Molten Man looks the best, especially when you see that his base also glows. A bowl-less head for Mysterio will greet you at Hot Topic.
All of these will be available this spring.