Let's Take a Look at Hasbro's Power Rangers Beast Morphers Line
Power Rangers: Beast Morphers is the big relaunch of the Power Rangers brand, and the first season of the show under the watch of Hasbro. They bought the property outright last year in a stunning move, and naturally along with continuing the show, they will be producing new lines of toys. Their initial push into stores is happening right now with their Beast Morphers line, and they were kind enough to send over a bunch of it for us to show you, so let's take a look!
For all you blind box collectors out there, there will be Power Rangers Micro Morphers for you and your little ones to collect. The regular blind bag mini-figures will have 16 to collect with a healthy mix of old and new from throughout the series. Also a must is the Micro Morphers Zords. Not only are they kinda neat, they come with two micros and work awesome as a storage container for the line. Add the stickers and they look pretty great on the shelf.
There will of course be Beast Morphers Zords available in a variety of styles. This Beast Racer Zord is aimed at the kids who would play with the Titan Heroes lines from their other properties. Limited articulation and good sculpting aside, these are more for the kids who want to bang them together. It looks neat on display, but collectors may want to wait for more complicated Zords.
The initial wave of articulated figures is more impressive than I thought they would be. All of the Power Rangers Beast Morphers figures come with wearable crystals that can also be inserted into the Power Morpher to turn it into that characters Morpher. The Rangers themselves have a nice, clean look to them, with the Blue Ranger having the coolest look of the three. I have not seen the show yet, so I am not familiar with who Blaze is villain wise, but he has a cool look and is funky enough to be a standout. My Hasbro Power Rangers collection will welcome them all.
NERF-wise, the Cheetah Blaster is something else. When you cock the NERF blaster, it "morphs' into firing mode but quick-change rotation and fires the dart from its mouth. Pretty nifty stuff here. Thankfully, NERF always includes extra darts. I lost one instantly.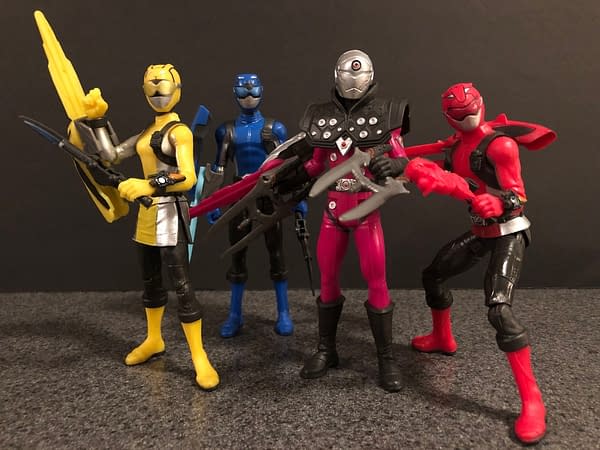 Overall, I am impressed. You can tell they have taken the time to figure out how to best incorporate Hasbro's existing brands smartly to the property, and the quality is there. I look forward to getting my hands on more Power Rangers, especially the higher end figures in the Lightning Collection, which is hitting stores now as well.
You can buy many of the above pictured items right here.