LOL Surprise Launch New Series J.K. Mini Fashion Dolls
LOL Surprise collectors have a new line to try and track down, as MGA has announced that LOL Surprise J.K. dolls are here. These four collectible dolls have real, styled, brushable hair, real fabric clothing, and really tall shoes. Each comes in a new style box that stretches and shrinks as you open everything as well. Fifteen total surprises will come in the package, and one of four fan-favorite dolls will be inside: Queen Bee, M.C. Swag, Neon Q.T., or Diva. The LOL package also becomes a diorama for your doll as well, furthering MGA's initiative that they are going to try and limit the amount of waste on these. You can check out all four new LOL Surprise dolls below, and preorder for yourself by clicking right here.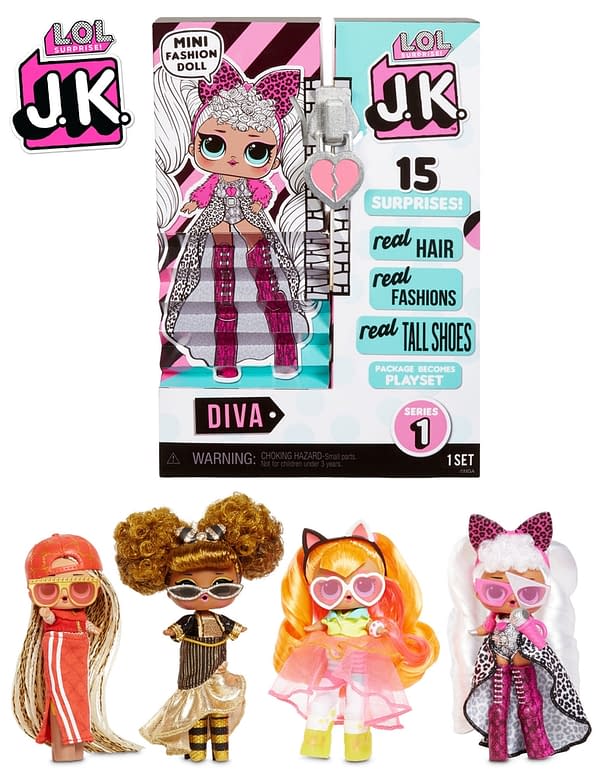 L.O.L Surprise! J.K. Doll Series 1 – Ages: 4+, MSRP: $16.99
Unbox 15 surprises including a mini fashion doll with L.O.L. Surprise! J.K. Fan-favorite characters Queen Bee, M.C. Swag, Neon Q.T., and Diva are back with a fierce, runway-ready makeover.
Product Features:
Each L.O.L. Surprise! J.K. doll has real, styled, brushable hair, real fashions, and real tall shoes.
A totally unique unboxing experience in an outrageous package that makes her picture taller and shorter as you push on it.
Slide open the back panel to reveal your mini fashion doll, then open the side to reveal her surprises, ready to be unboxed from her garment bags, shoebox, and hat box. Have her strike a pose to show her off on her included doll stand. Her package even becomes a dressing room playset.
Each L.O.L. Surprise! J.K. includes a mini fashion doll, real fashions, shoes, a shoebox, accessories, a hat box, bottle, a hairbrush, a doll stand, and a package that becomes a reusable playset.
Collect all 4 L.O.L. Surprise! JK mini fashion dolls.