Let's Take a Look at the Marvel Legends Archangel Figure
Marvel Legends collectors have been spoiled this year. So many great, long-requested figures made, which have been easier to find than ever. Collectors really should not have a hard time finding what they are looking for as far as Legends go, as long as they are patient. I know, that is a lot to ask a figure collector. As far as subsets of collectors go, none are more vocal than the X-Men Marvel Legends fans. They could get a wave of figures every month, and it still would not be enough. Always some of the most sought-after figures, they have even started to go back and do deluxe versions of some characters that deserve it. I mean, we are getting the Professor in his hover chair for crying out loud. So, into the deluxe line comes the longed for Archangel figure. He is in Gamestops now, and we got our hands on one. So let's take a look!
Standard Marvel Legends packaging will greet you on the shelf. We have been over this before, I am ready for a change, but if they never do it so be it. As a loose collector I should not have much of a say in it. MOC collectors will love the giant window and key art on the back. He certainly looks badass.
Getting him out of the package, he comes with four total heads, and giant, articulated wings. They attach to his back with a peg, and it stays in place very well. I love the paint aps on this guy, there are lots of opportunities for error there, but mine at least is clean and perfect. This is what I think of when I picture Archangel, the pinks and blues with giant wings. They nailed that.
This figure lives and dies with the wings though. Truth be told, they are a mixed bag. When fully extended, they look great. The hinge each one rests on is stronger than it looks, and allows for quite a bit of movement. It is when you are not posing him with the wings fully out that there are some issues. They scrunch up weird and send the figure off balance often. They are so articulated that wrapping the wings around him is really tough to make look natural. Same with his arms, they stick out from underneath a lot when you fold the wings around him.
The maskless heads are great, and the fact that we are getting Marvel Legends figures with so many alternate heads makes me happy. There are a ton of different possible poses that way for your shelf, and that stuff matters. He even comes with an extra ppiece for this year's BAF of Apocalypse. I will say that even with the problems with the wings, he looks weird and wrong without them. You are paying for the wings, so you should use them.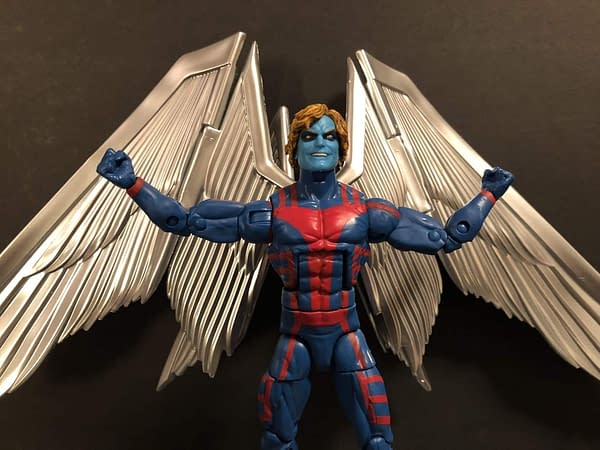 Is Archangel worth $30-40? I would say yes. With so many swappable heads and the giant articulated wings, fans will be happy with their purchase. I wish that the wings were a tad less articulated for better posing when not fully extended, but it is not a dealbreaker. Overall this is one of the cooler X-Men Marvel Legends overall this year, and a welcome addition to collections everywhere.