Let's Take a Look at the Marvel Legends Venom Wave
Marvel Legends collectors have been looking forward tho now all year, as we have a full wave of symbiotes to take a look at today! The Venom wave of figures features five of them in total, including a build a figure of Venom all hulked-out and massive. This wave has something for everyone, and we want to thank Hasbro for sending them over for us to show you! Lets dive right in and take a look!
We start with two symbiotes, Venom and Carnage. I am not a huge fan of this Venom figure. The body isn't bad, just bulky enough to look accurate. I don't really like the neck piece with the suit coming off his body, it doesn't look right. It just pegs into his back, so it is easy to remove. Of the two head sculpts, I like the Eddie Brock one more. Although both look a little funny on the neck.
On the other hand, Carnage is incredible. This is now the definitive Carnage figure. From all of the extra tendrils to the swappable axe hand and Cletus head, everything about this figure is perfect. It is such a over the top, kinetic looking figure, and does the character compete justice. If you are only getting one figure from this wave, this is it.
The figure you can avoid is the Poison. I get what they were going for with this one, but man is it a misfire. The symbol coming off his chest cannot be removed and it completely annoying to deal with. The figure has great paint aps, the shine on the white really pops. But he feels hollow and cheap. Just not a good figure unfortunately.
Scream on the other hand is awesome. This figure had the most to lose, with its brighter paint aps and such. I am happy that my example featured no paint bleed whatsoever. Clean lines and a gorgeous overall look make this one stand out. My only complaint is her hair piece. It really, really weighs the figure down in certain poses, making her fall over a ton. They did a great job on the sculpt, but it is just way too heavy.
The last two figures are interesting additions to be sure, but both are pretty cool. Typhoid Mary is not a bad figure, even if she kinda just looks like Mary Jane. Again, they did a wonderful job on the paint aps, very defined lines and detailed features with no blemishes. Ditto for the Spectacular Spider-Ham! While this guy has very little articulation, he looks awesome and is a welcome addition to our Marvel Legends collections. There are even pack-in pieces so that you can make a symbiote version of him.
The main event of the wave though is the monster Venom baf. This is how Venom should be. He really is massive, features a ton of articulation for posing. I wish the head had a bit more range of motion, but its not a huge issue. All of his other limbs are easy to maneuver, especially his arms and feet. This may be the best build a figure of the year, at least in the top three.
Overall this is a great wave to collect and add to your shelf. You do need the entire wave this time to build the monster Venom, and while I was not a big fan of the smaller Venom or Poison, they are worth picking up if you can find them cheap to build the baf. Anytime you can add definitive versions of characters (like Carnage and Scream) to your Marvel Legends shelves is great, and we get that here.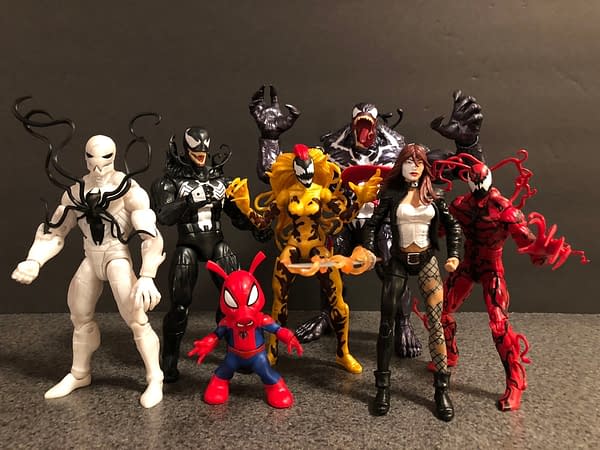 If you want to purchase this wave for your collection, you can do so here, or find them in stores now.