Tons of Mattel SDCC Exclusives: Masters of the Universe, WWE, Thanos, and More!
Mattel has now shown off tons of new SDCC exclusives that will be available at the show this year. These join the two we told you about earlier, the Aquaman figure set and Action Comics #1 Hot Wheels set. Joining them will be multiple exclusives from Masters of the Universe, WWE, Marvel, Star Wars, and more! They are as follows: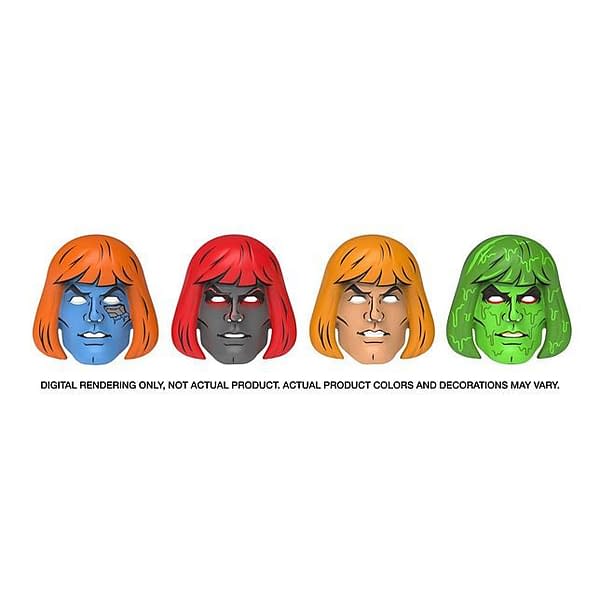 Celebrate the iconic Masters of the Universe™ legends and battle as your favorite character with this special 4-pack of masks. He-man™, Anti-Eternia He-Man™, Faker, and Horde Zombie He-Man™ come in colorful foam EVA masks with elastic straps for secure, all-day wear. Pit good against evil and battle to the finish for control of the Powers of Grayskull™. With this epic Masters of the Universe™ mask pack you can become both the true protector and evil ruler of Eternia!
Celebrate the powerful heritage of the Masters of the Universe™ and become the world's mightiest warrior with He-Man's iconic fur loincloth and Belt of Power. The hero's signature belt has authentic design and is full of secret compartments. Prepare for epic adventures and store all your battle gear inside the zippered pouch. When confronted by the evil Skeletor™ or Hordak™, activate the powers of Grayskull™ and unleash what's hidden within! The He-Man™ Belt of Power comes with a built in "fur" loincloth, a fully adjustable strap for all day comfort wear, and a special zippered compartment. Wear it and contain the Power of Grayskull™, just like He-Man™, Master of the Universe!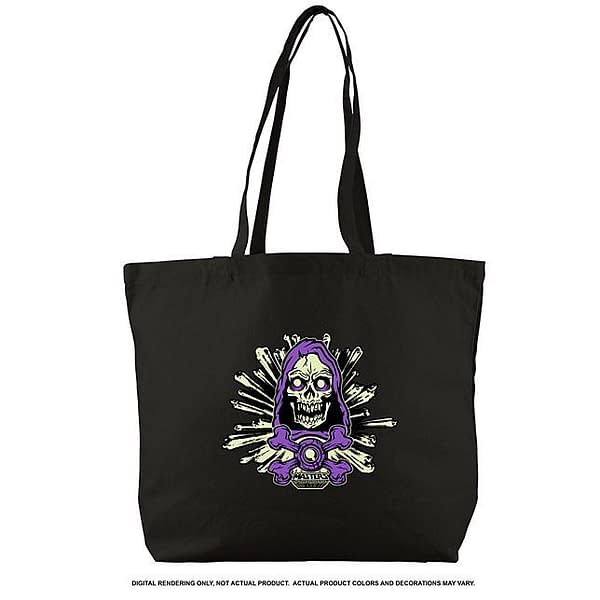 Show your Masters of the Universe™ pride with this captivating Skeletor™ tote bag. The Master of Havoc is prominently featured in an original illustration on a purple canvas background. When the lights go out, his menacing skull and cross bones glow with dark energy and a secret image will be revealed. The Skeletor™ tote measures 15 inches high by 18 inches wide, so you can carry all of your mystical relics everywhere you go.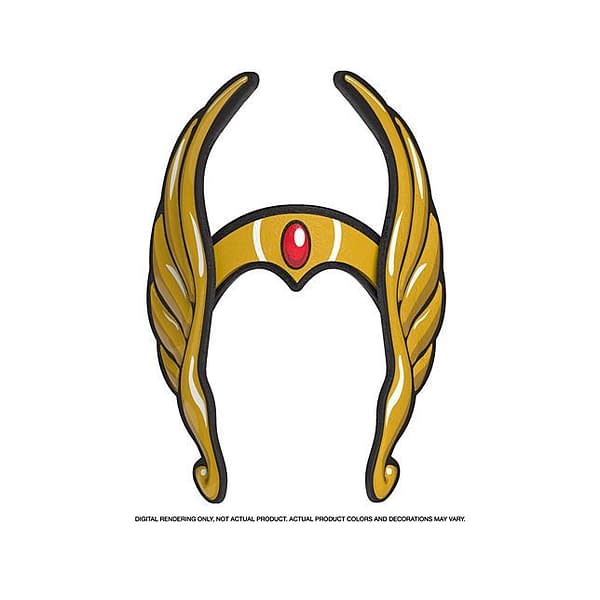 Become the Princess of Power and protect Etheria from The Evil Horde™ with this authentic She-Ra Tiara! The powerful, regal crown is made of EVA foam, with winged headdress shape, golden color, jewel tone centerpiece, and full ear regalia. The 10.75" tiara slides easily on and is held in place with an adjustable elastic band for all day battle action. Become the most Powerful Woman in the Universe and a true Masters of the Universe™ legend! Includes a colorful, illustrated header card featuring She-Ra riding her winged unicorn Swift Wind in an epic battle from the Great Rebellion.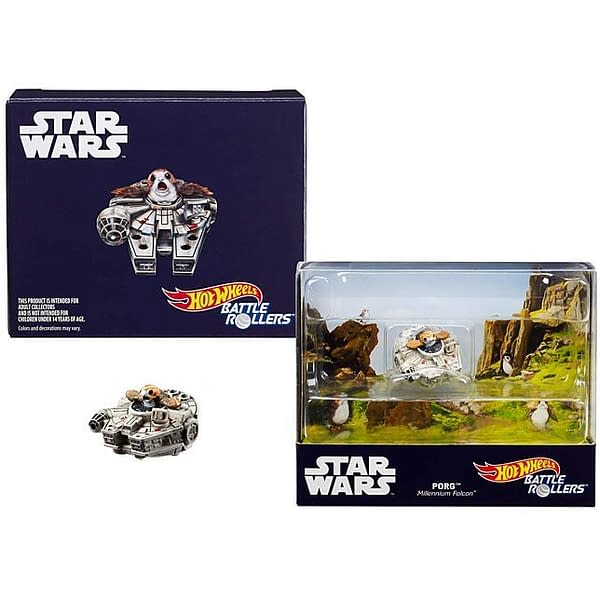 Meet the Porg, an adorable, flat-muzzled avian bird native to the remote island of Ahch-To. When these hyper-curious creatures aren't taking care of their helpless porglets, the cliff-dwelling bird uses its stereoscopic vision, dense feathers and webbed rear-set feet to dive into the water to catch their next meal.

This special edition Hot Wheels® puts the Porg in the iconic Millennium Falcon™ as a highly detailed, die-cast Battle Roller™!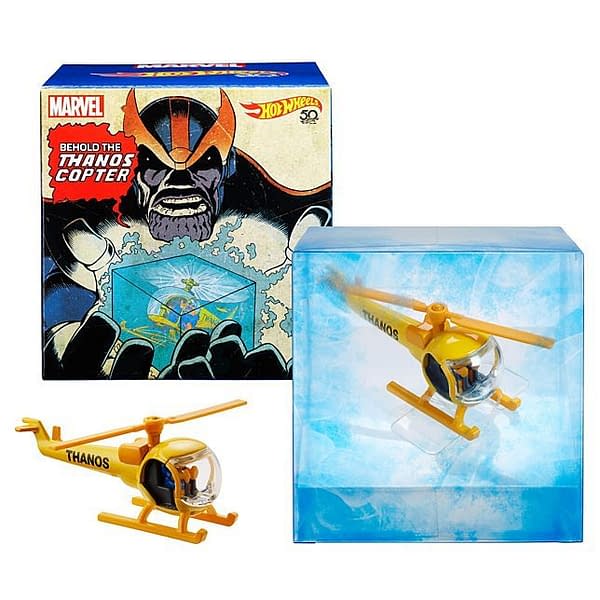 Packaged inside of its very own Cosmic Cube, Hot Wheels® pays tribute to 1979's "Spidey Super Stories #39" by recreating one of the most talked-about and unlikely vehicles in the world of comic books, the Thanos Copter. Piloted by the Mad Titan himself, this finely detailed die-cast helicopter has a real spinning main rotor, twin landing skids, and looks ready to take flight at any time and wreak havoc throughout the Marvel® Universe.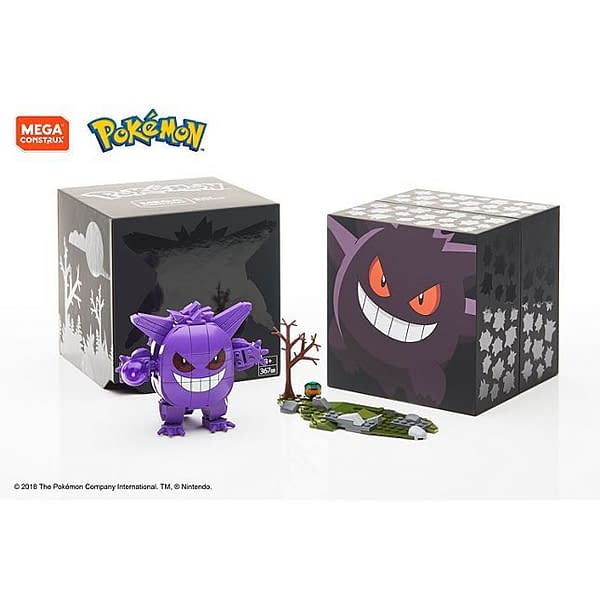 Build the most mischievous Mega Construx Pokémon construction set yet with the Limited Edition SDCC-2018 Gengar figure!

This limited-edition special figure for San Diego Comic-Con 2018, moves fan-favorite Pokémon Gengar out of the shadows and straight to center stage!

Completely buildable, fully poseable, and featuring its signature grin and glowing, red eyes, the last thing this Gengar wants to do is hide!

When it's ready to pounce, open the premium packaging and get ready for a one-of-a-kind unboxing experience!

Not only does the intricately engineered box showcase striking official Pokémon artwork, but it also hides a hauntingly good surprise—opening to reveal enchanting pop-up artwork of Gengar's previous evolutions, Haunter and Gastly! Gengar also comes with a buildable Dusk Ball, marking the first appearance of this kind of Poké Ball in the Mega Construx Pokémon line! And, to help you keep things tidy and show off your awesome new figure, the box contains two handy drawers for storage and folds into a platform perfect for display!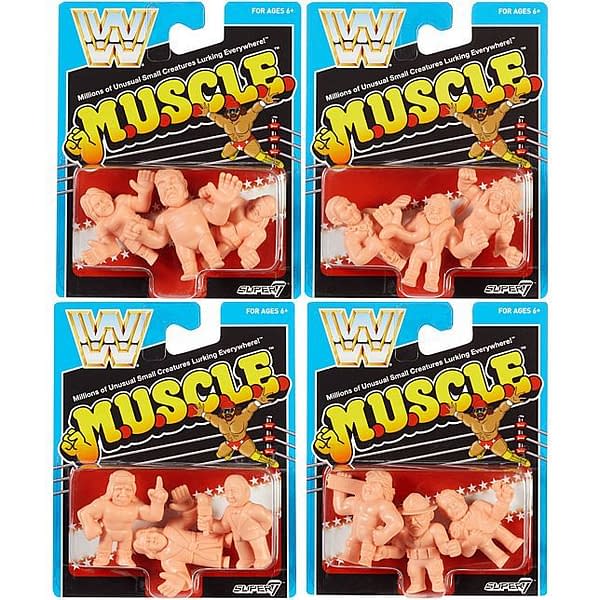 Classic M.U.S.C.L.E. figures are back featuring some of your favorite WWE® Legends! Each 3-pack features three mini WWE® M.U.S.C.L.E. Â figures with classic styling and cool retro packaging! M.U.S.C.L.E.—Millions of Unusual Small Creatures Lurking Everywhere—are mighty little creatures from all over! They're rough and rowdy renegades, they're flexible, durable and unstoppable! Each WWE® M.U.S.C.L.E figure is approximately 2-inches tall and features an action-packed pose and highly detailed sculpt. Get the first four WWE® M.U.S.C.L.E. 3-Packs: Macho Man Randy Savage™, Andre the Giant™ and Rowdy Roddy Piper™; Mean Gene Okerlund™, Iron Sheik™ and Ric Flair™; Jake The Snake Roberts™, Junkyard Dog™ and Ultimate Warrior™; and Sgt. Slaughter™, Hacksaw Jim Duggan™ and Million Dollar Man™. Get the first four WWE® M.U.S.C.L.E. 3-Packs and flex your collecting M.U.S.C.L.E.
All of this will be available at SDCC at the Mattel booth this year.