NECA's Pan's Labyrinth Figures Continue With Ofelia
NECA is continuing its awesome partnership with director Guillermo del Toro and creating figures from his film's with the third figure from Pan's Labyrinth. Ofelia will come with three different fairies, a book, a key and a pillar with an eye that comes out. She will stand around 5 inches tall and comes with the standard awesome NECA articulation. This will go well with their Faun and Pale Man figures from the film as well. Check out the figure below. She can be preordered here for shipping early this year.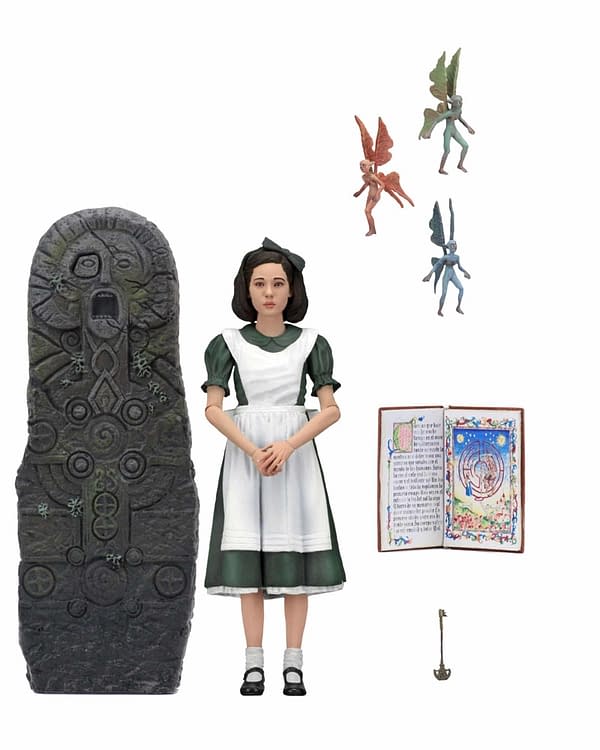 NECA's new collaboration with renowned movie director Guillermo Del Toro brings select characters from Del Toro's films to life in premium action figure format with deluxe added elements. From the dark fantasy film Pan's Labyrinth, the young Ofelia stands approximately 5" tall, is fully articulated and comes with detailed accessories from the movie, including three different fairies, key, book, and a small pillar with removable eye. Collectible deluxe window box packaging.
It's 1944 and the Allies have invaded Nazi-held Europe. In Spain, a troop of soldiers are sent to a remote forest to flush out the rebels. They are led by Capitan Vidal, a murdering sadist, and with him are his new wife Carmen and her daughter from a previous marriage, 11-year-old Ofelia. Ofelia witnesses her stepfather's sadistic brutality and is drawn into Pan's Labyrinth, a magical world of mythical beings.