Jawas have filled our mind with wonder and mystery since their first appearance in Star Wars: A New Hope. The abduction of C3PO and R2-D2 showcases these little creatures. The little salvagers are here to scrap and make deals. Hot Toys is bringing a Jawa and EG- 6 Power Droid Figure Set. The 1/6 figures are fully detailed and molded to perfection. The Jawa has a newly modified head to allow LEDs for the eyes. This is a pretty cool feature since their yellow eyes are so iconic. The Jawa also comes with some accessories like a blaster and an electric trigger. His outfit is cloth-based and they come with desert-themed display bases. EG-6 is detailed with weathering effects and shows his mechanical parts with great sculpting skills. This figure set is a great addition to the Hot Toy Star Wars line and would be a fine addition to your collection.
Hot Toys has not released a price or a date of release just yet. I would expect this to be a 2020 release though.
"Utinni"
Star Wars: Episode IV A New Hope – 1/6th scale Jawa & EG-6 Power Droid Collectible Set
The Star Wars galaxy is vast and filled with numerous alien species and droids. Today Hot Toys is delighted to further broaden its Star Wars 1/6th scale collectibles series by introducing the Jawa and EG-6 Power Droid collectible set based on the characters' appearances in Star Wars: A New Hope!
Jawas are meter-tall humanoids completely hidden behind rough, hand-woven robes. Their faces are concealed within the dark folds of a cowl, from which peer their sickly glowing yellow eyes. They comb the deserts of Tatooine in search of discarded scrap and wayward mechanicals, incapacitate droids and drag them to their treaded fortress-homes, immense sand-scarred vehicles known as Sandcrawler, and sell their hastily refurbished junk to moisture farmers who are hard-pressed to find a better selection elsewhere.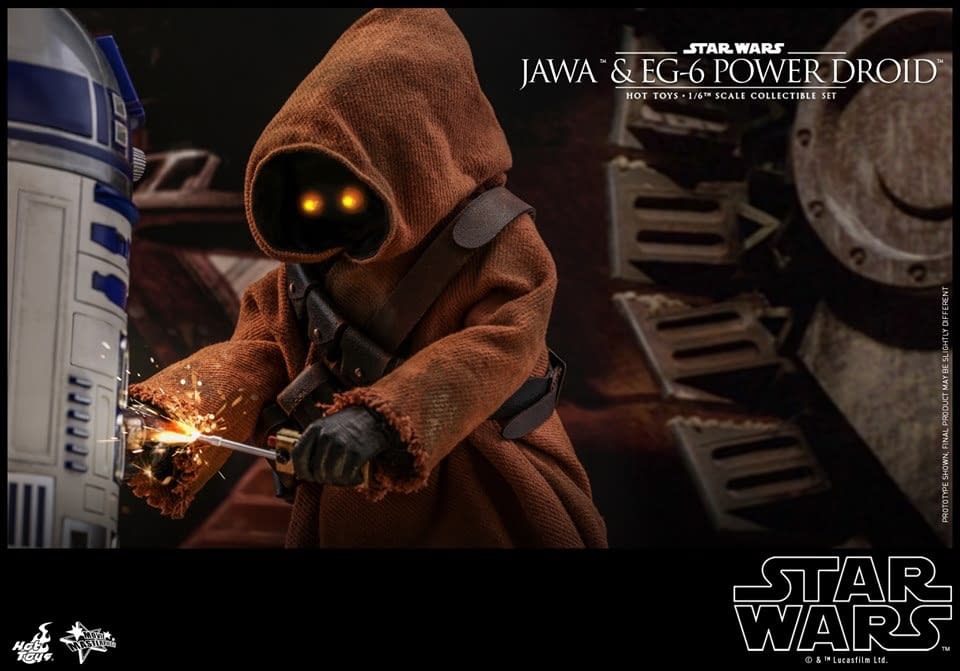 Little more than walking batteries, power droids trundle along as directed by their owners or their programming, recharging vehicles and machinery. They are often called "Gonk" droids in imitation of their simple vocalizations. There are many different models of power droid and are common sights throughout the galaxy but little-noticed despite their critical importance to both military and civilian life.
Meticulously created based on the appearance of the two characters in the movie, the 1/6th scale Jawa collectible figure features newly developed head with LED lights, skillfully tailored costume, variety of accessories, and a sand-themed figure base. The EG-6 Power Droid is finely crafted with a detailed mechanical body with weathering effects, and also comes with a sand-themed figure base.
Expand your Star Wars collection with these unique characters!