Power Rangers Funko Morphing Into Stores in August
Power Rangers Funko Pops are about to take over your local Pop shelves. Get ready for a whole wave of awesome Power Rangers Funko goodness everywhere you find Funko products. Let's go over everything that will be available.
"You've Got The Power!"

Saban's Power Rangers is celebrating 25 years
of action packed superhero television fun and
Funko is excited to announce a new batch of Pop! figures!

In the latest series, you can collect the nemesis and archenemy of the
Power Rangers – Rita Repulsa, alongside villain Lord Zedd, and under
their command Goldar makes his Pop! debut.

Collect Blue, Green, Red, Pink, Black and Yellow
Rangers – all designed with their civilian faces!
All of the Rangers are unmasked in these versions. The big news are all of the villains and Zords that are going to be out there. Rita and Zedd Lokk awesome. Especially Zedd. This being the 25th anniversary, it is cool to see Funko pay tribute to smaller characters along with the Rangers themselves, as you will see below.
Goldar will see a general release, while Pudgy Pig and Pumpkin Rapper can be found at Gamestop as exclusives. That Pumpkin Rapper is just a super cool looking Pop, I am going to get one for my Halloween displays. You can also find a Rita/Zedd two pack at Books-A-Million.
Zords are always a popular piece, and continuing their 10-inch sized Pops you can find a Dino Ultrazord exclusively at Target. Man, that is going to be a tough get.Entertainment Earth will also have a glow in the dark Megazord Pop.
Other Zord exclusives include a black and gold Megazord will be available at Power Morphicon, and the Tigerzord exclusive at Hot Topic.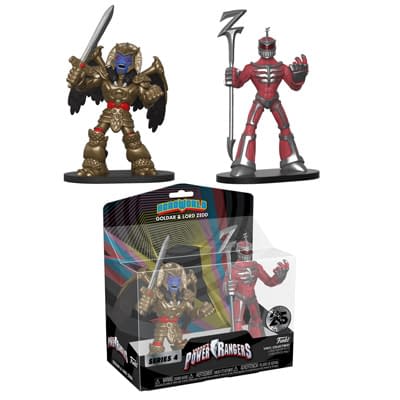 Finally HeroWorld gets a new set featuring Goldar and Lord Zedd. Also buried in that announcement is that while this set can first be found exclusively at Target, they can soon be found everywhere.
Preorder most of this stuff right here!