There is a Previews Exclusive Version of the One:12 Collective Cable Figure
Cable is the most anticipated upcoming release from Mezco Toyz ever-popular One:12 Collective line. We now know that there will be a companion release exclusive to Previews. Cable will come with a plasma cannon with two removable magazines, a grenade launcher, eight interchangeable hands both gloved and metal armed, a handgun, two heads, and light-up features. As with al other One:12 figures, he comes with a cloth suit fit to the figure. His metal arm is sculpted and features fine detail.
This version will ship in June, right around when the regular release also ships. The previews exclusive version can be ordered right now at your local comic shop, and costs $100. If anything like the other Previews exclusives, Cable will sell out fast and when they are gone, they are gone. Check out some pics and details below.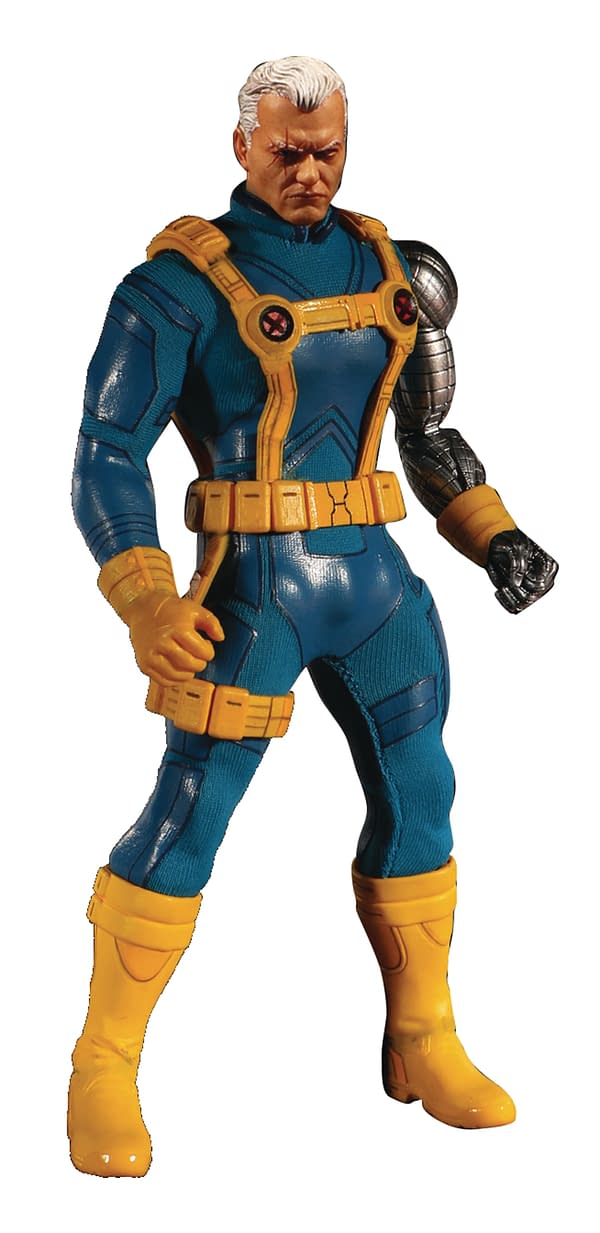 From Mezco Toys. A PREVIEWS Exclusive! Cable was sent to the future in a bid to save his life when he was infected by a techno-organic virus. Using his formidable telekinetic abilities and cybernetic enhancements, Cable battles super villain foes in his quest for peace. The X-Men Cable One:12 Collective Action Figure features a light-up function that illuminates his plasma cannon and techno-organic eye in both of his head sculpts. The telekinetic mutant features a detailed cybernetic arm and is outfitted in a classic blue X-Men costume made from real cloth, along with flexible utility belt! Cable comes complete with a devastating arsenal of advanced weaponry: a plasma cannon with two removable magazines, grenade launcher with rotating carousel and handgun, spear, and separate handgun! Cable also comes with 4 sets of interchangeable hands and a One:12 collective display base with a stand featuring the X-Men logo!