Marvel's Spider-Man on PS4 was one of the greatest superhero games I personally have ever played. The depth that they took the character of this world and threw him into a new original setting was a breath of fresh air. While we did get to see elements of iconic characters like Dr. Octopus it was still nice to see them in a new and different setting. PCS Collectibles has announced a Spider-Man advanced suit 1/3 scale statue. The statue is a post statue with Spider-Man in his newest white symbols suit in action. Well, nothing really stands out about the Spider-Man statue itself besides the new upgraded costume what are the greatest part of this is actually the base. If you have played the exclusive webslinger PS4 game then you know one of the ongoing villains is Mister Negative. You did do a lot of dream/illusion sequences with him in this bass completely grabs that idea. With the ancient Chinese style face mask in the black goo really brings something special to the statue. But this is a Spider-Man statue so you really have to dig into how highly detailed in the quality they put into our webhead. The white aspects are definitely something different you don't usually see in Spidey costumes This is a must-have for any Spidey fan or fan of Marvel's Spider-Man video game on PS4.
Both Spider-Man Advanced Suit Statues by PCS Collectibles are priced at $1100. They are both scheduled for release between January 2021 and March 2021, payment plans are available. Pre-orders for both standard and collector editions statues are already live in located here.
"Writing memoirs? Don't forget the hyphen between Spider and Man."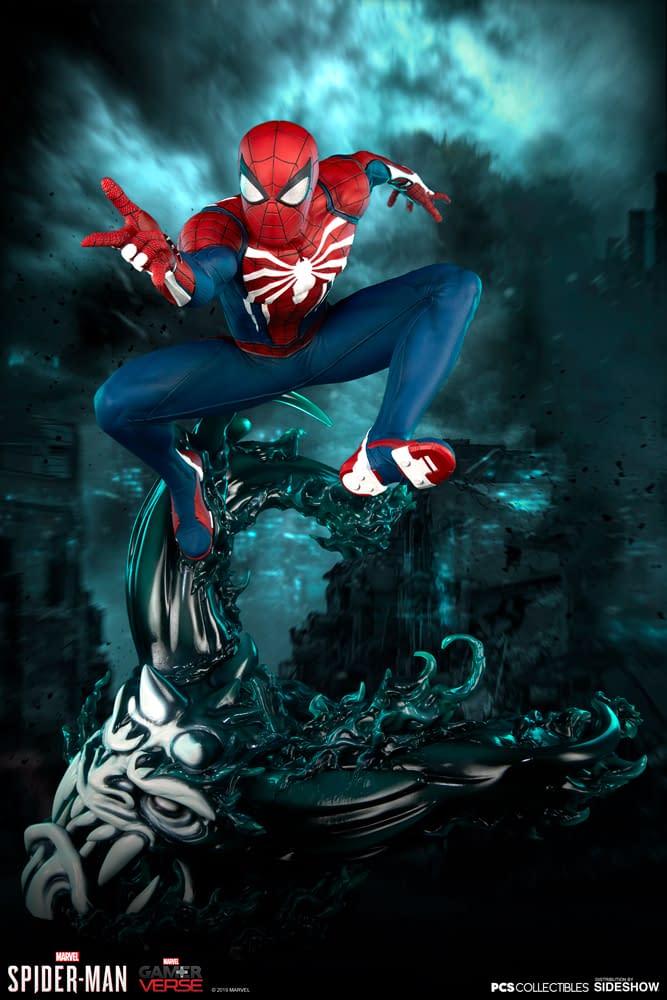 Spider-Man Advanced Suit Statue by PCS Collectibles
Sideshow and PCS Collectibles present the Spider-Man Advanced Suit 1:3 Scale Statue, swinging in direct from the world of Marvel's Spider-Man!
The Spider-Man Advanced Suit 1:3 Scale Statue captures all of the action and web-slinging thrills of the hit video game in a dynamic collectible format. The statue measures 24" tall as Peter Parker leaps into battle against Martin Li, also known as the villainous Mister Negative. Charged up with negative energy, Li's mystical and monstrous Demon form serves as the statue base and brings fans back to the center of an epic boss battle translated right from the screen to your shelf.
The Spider-Man Advanced Suit 1:3 Scale Statue features a fully sculpted costume based on the unique suit design created especially for Marvel's Spider-Man. Peter's Advanced Suit features white accents on the hands and feet as well as white spider symbols on his chest and back. Additionally, the figure features detailed blue and webbed red costume sections, textured to mimic the movement and appearance of suit fabric.
The Exclusive Edition of the Spider-Man Advanced Suit 1:3 Scale Statue features a flexible web accessory for Spider-Man's hand, giving your display an extra THWIP of detail.
Defeat your Demons and bring home the Spider-Man Advanced Suit 1:3 Scale Statue from PCS Collectibles today!