Remember when they first released the new Sonic The Hedgehog film trailer last year and everybody started calling for classic Sonic the Hedgehog rather than the strange redesign we originally got? The producers were obviously listening (and came back with a new trailer) but it seems the folks at Hero Collector were listening as well because they're coming out with a new line of Sonic figurines based on the iconic designs from the classic SEGA Mega Drive games.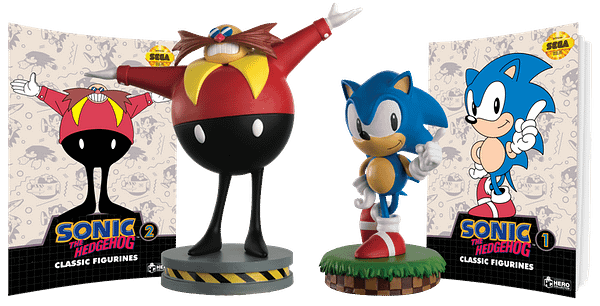 Their brand new Sonic the Hedgehog Figurine Collection will showcase beloved characters such as Sonic, Tails, Knuckles and the evil Dr. Eggman, captured in hand-painted polyresin at 1:16 scale (approximately 4-5 inches tall). We've even heard talk about 8-bit versions of the characters coming at a later stage. As per their usual model, each of the Hero Collector figurines will come with a companion magazine – highlighting background on the character's design, a zone from the original games, classic cover art, and a history of SEGA. The collection is scheduled to launch early this year and kicks off with two key characters from the original 1991 Sonic The Hedgehog game:
Sonic the Hedgehog, the fastest hedgehog alive! From his blue quills to his red-and-white sneakers, Sonic is one of the best-known heroes in video game history. The figurine stands atop a chunk of the Emerald Hill Zone, playfully wagging a finger in a pose from the original Sonic The Hedgehog cover art!
Dr. Eggman, Sonic's brilliant nemesis! This rotund roboticist was dubbed "Doctor Robotnik" in the West, and plagued players in every zone of Sonic The Hedgehog. The figurine stands atop an industrial crusher with his arms spread wide, just as Eggman does when he claims all the Chaos Emeralds!
Bleeding Cool is told that fans should stay tuned for further details about the collection, including the reveal of more upcoming Sonic the Hedgehog figurines and box sets. Whether or not that includes characters from the film remains to be seen. You can find the first wave of figures being previewed in the Hero Collector online store.
Enjoyed this article? Share it!