Stranger Things Games Perfect for Your Season 3 Binge This Weekend!
Stranger Things season 3 is now streaming on Netflix, and people are gathering all over and having watch parties as we speak, myself included. There are some really awesome games available now to help spruce up your binge this weekend, and Hasbro was cool enough to send us some over to take a look at. So let's head to the Upside Down and take a look at three great additions to your Stranger Things streaming party.
First up is a mini-arcade machine made up to look like a Palace Arcade machine from Season 2. It comes preloaded with classic games like Galaga and Pac-Man, but the real home run of this thing is the Stranger Things inspired games that are also included. All of them are basic games, mostly based off other existing classics. But man are they fun.
The screen is not as small as it looks, and the cabinet fits very comfortably in your hands. The buttons lag for an extra second at first, but once you press them a few times that corrected itself on mine. This sent me right back to my childhood and playing old Tiger handhelds and such, and it is a ton of fun. I really enjoy the Scoops Ahoy game, and Space Invaders Stranger Things style is cool. For $29.99, this is a nifty little thing to add to your ST collection.
They also released a Stranger Things 80's edition of Trivial Pursuit. The hook with this one is that periodically during the game you flip the board to the Upside Down and if you incorrectly answer the questions you lose your piece of pie! Kinda neat.
The main event for fans though has to be the Dungeons and Dragons Starter Set. This includes a Stranger Things quest, complete with a Dungeon Master guide written by MikeWheeler himself! It also includes two Demogorgon figurines, a set of dice, a D&D rulebook, and ST themed character sheets. How cool is all of that?
Everything is really well done, featuring cool key art. The Demogorgons are well-done as well, I really like the unpainted one. This will be a great introduction to new players and a fun one-off for experienced players alike. I know that I was really hooked after watching the first season, and now have a group I regularly play with. We cannot wait to try all of this out this weekend while we watch the show, as we have been planning for months. At $24.99, it feels like the perfect entry point to introduce many more to the wonders of role-play gaming.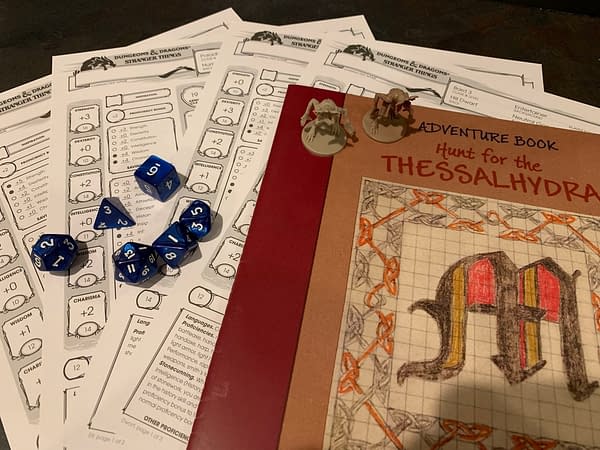 Overall, all three of these are going to enhance my Stranger Things season 3 binge this weekend, and all three are executed well and worth a look if you are hosting a ST party this weekend. You can find them in stores right now, or order them right here.