Super7 has two new huge preorders available right now, with their stab at a 70's Conan figure and their new William Stout Collection of Masters of the Universe movie figures. Conan is based off his look from the Marvel Comics of old, and his packaging will reflect that. He will also come with a spear, sword, and a necklace. Conan will cost you $35, and is made to preorder. So make sure if you want one to get in and get one before March 31.
One of our favorite things we saw at New York Toy Fair, the William Stout Masters of the Universe Collector's Choice figures pay homage to the film from 1987. This four figure wave includes He-Man, Karg, and two different versions of Skeletor- a regular and "Hyper" version in gold armor. These will cost you $140 for a set, and preorders will stay open until March 31. You have to order a full set before ordering individual figures.
Check out all five figures below. You can place a preorder for any of them here!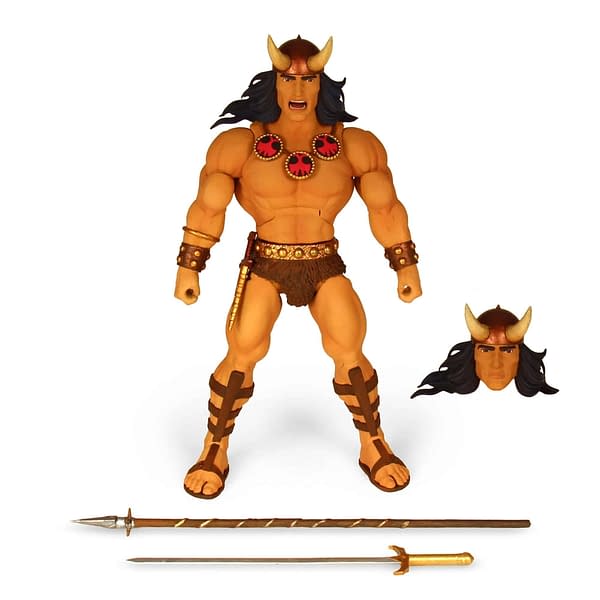 By Crom! Charging off the pages of the original comics from the 1970's is the Conan the Barbarian Deluxe Figure!
Conan comes with spear, sword, dagger, and necklace accessories plus an alternate head!

The Conan the Barbarian Deluxe Figure is a 7″ tall, highly articulated and fully poseable action figure sculpted by the Four Horsemen. It will come packaged in a slip case-style box featuring art from the original comics.
The Conan Deluxe Figure is available for pre-order from March 1, 2019 through March 31, 2019.
PRE-ORDER OPEN NOW: The Super7 Masters of the Universe Collector's Choice series continues with the William Stout Collection of highly detailed deluxe 7-inch figures!
Based on the legendary 1987 William Stout production art, each highly articulated figure was sculpted by the Four Horsemen and comes complete with accessories. The set includes He-Man, Hyper Skeletor, Karg, and Skeletor and packaging will be posted and shared when finalized.
The Masters of the Universe William Stout Collection set of 4 figures is a made-to-order release for $140 per set (plus shipping) and individual figures are available for $35 each with a full set.
This pre-order is open until March 31, 2019 with shipping in Summer 2019. Visit the Pre-Order shop for details and ordering.
Enjoyed this article? Share it!