Amazing Spider-Man #800 Review: A Hard Comic to Recommend?
All Spider-Man's allies are down thanks to the Red Goblin… or at least they both think. Now Osborn is going after those close to Peter Parker, starting with Aunt May and Mary Jane Watson. Thankfully, Venom and Doctor Octopus have stakes in this fight, and Mary Jane and May are far from helpless. Plus, Harry and Liz Allen aren't willing to lie down and let Norman ruin their lives, and Peter gets a leg up from Eddie Brock. The final battle against the Red Goblin ends here.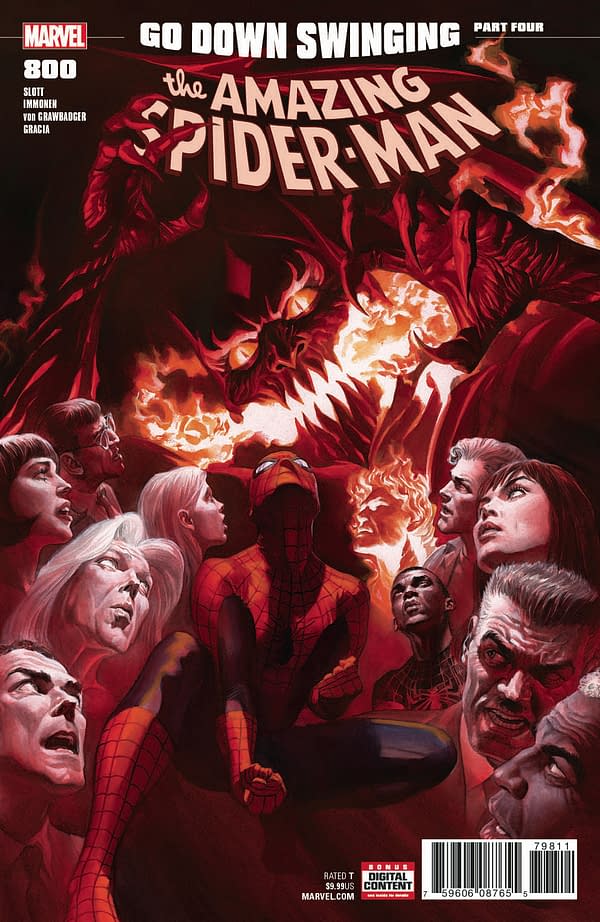 Amazing Spider-Man #800 is a rough read for the first half of the comic. While the idea of black-suited Spider-Man battling a Carnaged-up Green Goblin should be inherently awesome, it isn't until the comic strips itself back down to the basics does the story begin to shine. When the comic becomes simply Spider-Man vs. Green Goblin, it finally becomes good.
Also, there is a death in here and it pissed me off and I'm not ready to talk about it yet shut up.
There are still many, many rough lines of dialogue. The comic is an 80-page monolith, which is good considering it's $9.99 (Action Comics #1000 was only $7.99, just saying). That gives a lot of room for some awful dialogue. The comic doesn't understand children, for one thing, and Normie Osborn delivers some truly cringe-worthy lines. Green Goblin himself makes some awful jokes, many of which reference old Spider-Man stories in a manner that will cause your eyes to roll back into your head. He really likes talking about Gwen Stacy.
The art is very hit-or-miss. Nick Bradshaw misses the mark here for some reason. Humberto Ramos — I think there is a comic out there where his art will fit; it looks really bad here and makes up the largest portion of the comic. Giuseppe Camuncoli, Stuart Immonen, Marcos Martin, and Mike Hawthorne deliver some good work in the last half. Color artists Edgar Delgado, Java Tartaglia, Marte Gracia, Muntsa Vicente, and Jordie Bellaire deliver some consistently solid color work throughout.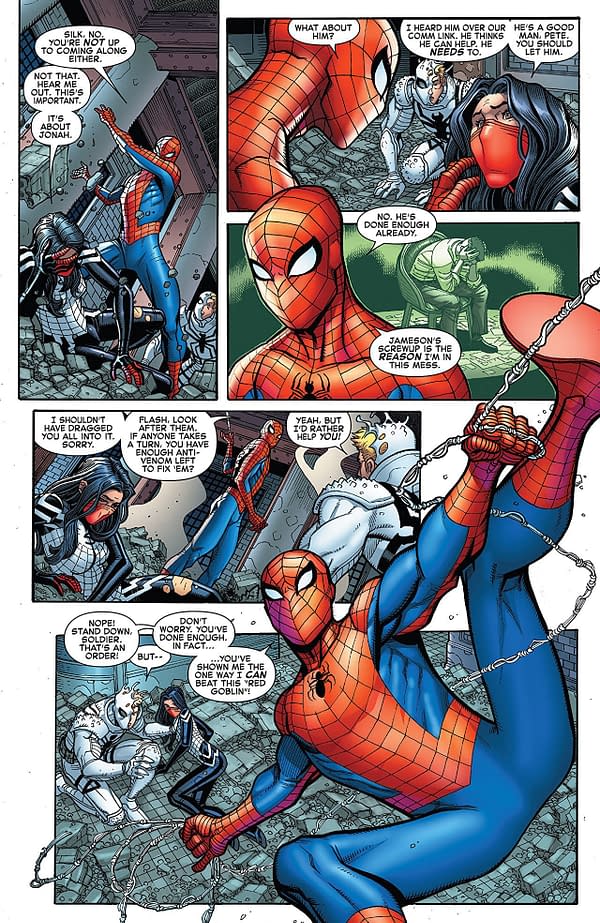 Amazing Spider-Man #800 is hard to recommend at the price point. I can say that I enjoyed a lot of it, but this is my job. I'm not throwing away money at this in the same way. I can say that a lot of it is good. Despite some dismal points early in when Ramos's art is at its worst and the dialogue is screeching like nails on a chalkboard, the final half-or-so did have me invested. That said, can I really recommend a 6.5/7-out-of-10 comic at $9.99? I'm not sure that sits right with me.
If you love Spider-Man, particularly Dan Slott's Amazing Spider-Man, definitely grab this book. You'll get what you paid for. That's the only scenario in which I feel confident recommending this book.
If you've not been paying attention to this series in a while… well, you won't feel that lost, but I'd still give it a pass. If you absolutely must have Amazing Spider-Man #800, well you were going to buy it no matter what I said — and more power to you. I understand the compulsion to buy a landmark issue like this. That said, even if you're lukewarm on Slott's ASM, I wouldn't cough up the 10 bucks to buy this book. It's just not that good, and that's the risk you run with a price point like this.