Green Arrow #38 Review: A Good Comic That Seems to Think It's a Series Finale
The time has finally arrived for the trial of Oliver Queen. Things look bad for the man who is Green Arrow, especially when he opts to defend himself in court. The Ninth Circle is still acting against him in this matter too. Can Ollie make it through this without winding up with a prison sentence?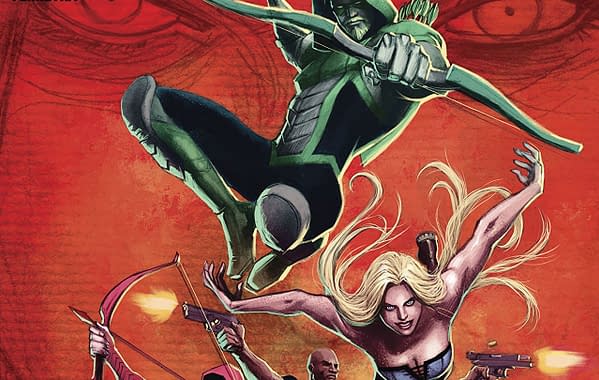 This comic strangely resembles the last issue in a series. Without giving anything away (I hope), the second half of this comic wraps up most of the current plot lines in short order. Plot threads that haven't been relevant in a long time are brought back and given their own conclusion. Even the narration and the final page comes full circle with the first issue of Green Arrow: Rebirth #1.
And yet, the final page tells the reader that there will be another issue and arc. As such, I must give the comic credit for closing out the Ninth Circle and every plot point that came with it.
It isn't especially organic feeling, mind you. The comic comes across as if it's rushing a conclusion to many of the plots and tangents that arose in the prior 37 issues of Green Arrow. Again, this comic seems convinced that it and its readership won't be returning for another issue; it concludes everything that came before it at a breakneck pace. There isn't really any action or conflict beyond the debate of the courtroom either.
That being said, it's still an overall entertaining and even uplifting book that celebrates Green Arrow's Rebirth run. Ollie Queen is allowed to give a dramatic speech, and the Justice League members make nice cameos throughout.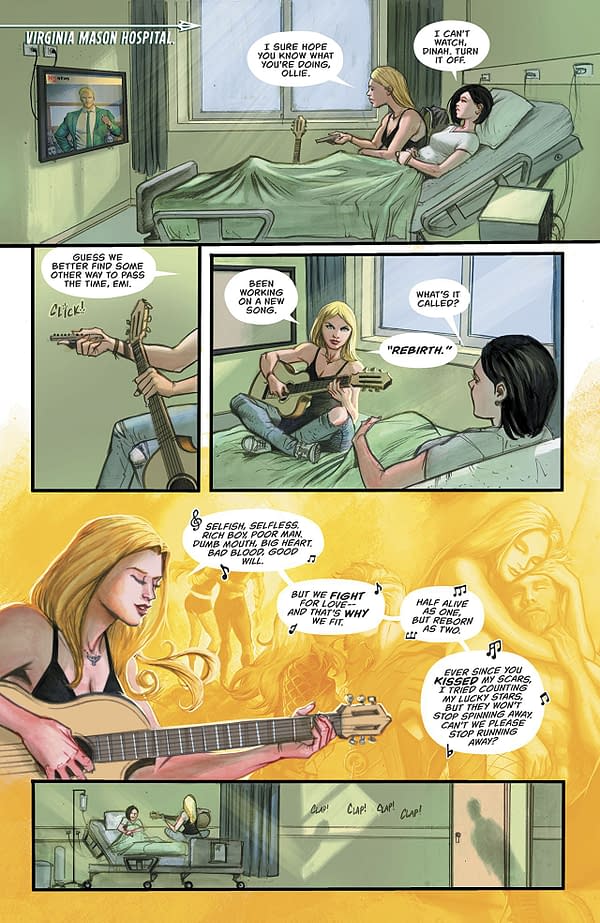 Juan Ferreyra returns once more to give this comic beautiful visuals. There is gorgeous detailing, great texturing, and energetic action on almost every page. The color art is well balanced and outright brilliant at times. Ferreryra can make a comic visually stunning, and he does so once more in this comic.
Green Arrow #38 closes out both the trial of Oliver Queen and, seemingly, the Ninth Circle arc that has been carried since the beginning of this series. As such it's an interesting installment and one worthy of recommendation. It's not brilliant, but it's worth a read. Check it out.