Hal Jordan and the Green Lantern Corps #38 Review: Great Leads Against a Legendary Universe
Hal Jordan and Kyle Rayner have been beaten and taken by General Zod and his family. While Hal is bruised, Kyle is in a bad way. After an uncomfortable dinner with Zod's family, Hal reveals that his personally-forged ring is always connected to him. He may be able to summon it regardless of what Zod is using to contain it.
While this is one of the thinner issues of Hal Jordan and the GL Corps, it manages to be compelling regardless. Presenting two of our heroes powerless and humbled is a basic and effective means of adding tension. That may seem obvious, but with heroes has powerful and often cocky as Hal Jordan and Kyle Rayner, it is a different mode of presentation for this comic.
Zod makes for a great villain. He's a classical, brutal, and monologuing rogue whose power is even greater than that of our intrepid Green Lanterns. Ursa and Lor-Zod add slight variables, with Ursa being even more vicious than Zod and Lor being somewhat innocent and unknowing.
The interplay between Hal and Kyle is as entertaining as ever. Robert Venditti has well established by now that he has a firm grasp on the Green Lantern Corps. There is plenty of good dialogue and fun to be had in their discussion, even with Kyle bleeding out on the floor.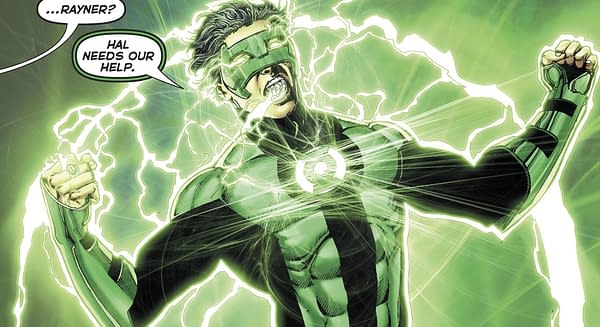 Ethan van Sciver returns to this issue, and his art is as strong as ever. His realistic styling brings muscular figures, incredible detailing, and great depth. His inkwork has always been great too. Jason Wright's color is bright and pops. He can play the bright greens off the environment very well. Sciver and Wright make for a great team.
Hal Jordan and the Green Lantern Corps continues to be a strong and consistently engaging book. With its ever-endearing leads, a great villain, and a strong stable of artists, this book scores another recommendation. Give it a read.