Image Offers New Humble Bundle; Image Comics Showcase Bundle
Image Comics offers a survey of their newer series in the Image Comics Showcase Bundle via Humble Bundle scheduled to end on Wednesday, July 22. The bundle chose the Hero Initiative and the Book Industry Charitable Foundation as their two charities. Intriguingly, there's more than a few complete stories and full series here, as well as two examples of as much as currently exists in the trade format.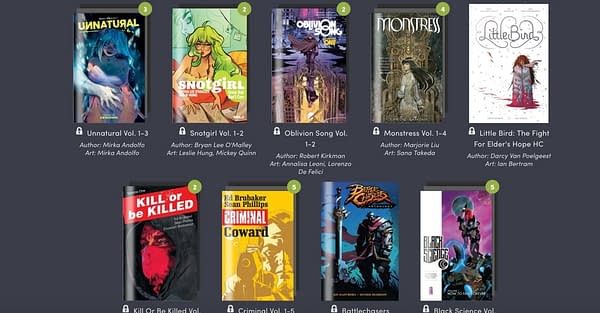 Of the complete stories offered in the Humble Bundle, the one who's inclusion here most surprises me is Mirka Andolfo's Unnatural, which was one of Image's minor hits at the time of publication. Does it count as a license, given that Unnatural was first published in Europe before coming stateside through Image? There's also Curse Words, which wrapped up a Kickstarter recently, and the Eisner nominated Little Bird.
It's a testament to Image's reach that they're offering something from many of the biggest names in comics. Current Marvel sensation (and Jude Terror punching bag) Donny Cates is represented here with God Country, Brian K. Vaughan of Saga fame is represented here by We Stand On Guard, and the multi-Eisner-winning writer Marjorie Liu is represented here with Monstress. Perhaps you're an artist first person? The bundle also contains works from rising star Daniel Warren Johnson (The Ghost Fleet), Eisner-winning artist Paul Pope (Heavy Liquid), and cover artist extraordinaire doing interior pages Jen Bartel (Blackbird).
If you like crime stories, it's difficult to go wrong here with this Humble Bundle. There's five volumes of the iconic comic Criminal (plus their My Heroes Have Always Been Junkies album), as well as the cult classic black and white crime comic Stray Bullets. Stray Bullets is one of those old, old indie comics from veteran penciler David Lapham.
The PR says that the bundle is over $1,500 worth of comics, and that's true, but that undersells the draw in my mind. The draw for this Humble Bundle is the range and depth that Image is capable of. $18 gets you a fairly comprehensive survey of Image over the last couple years from most (but not all) of the biggest names today.