The Invincible Iron Man #599 Review: Dramatic Reveals are for Everyone!
Victor Von Doom crashes with an old associate, and Tony Stark finally surfaces to let his mom know that he is alright and what is going on with him. He asks more about his biological father, and she gives him more of the story. Then Iron Man leaves to more personal business. Elsewhere, Ironheart finally meets the person who is behind the new clandestine organization of which she has become a part.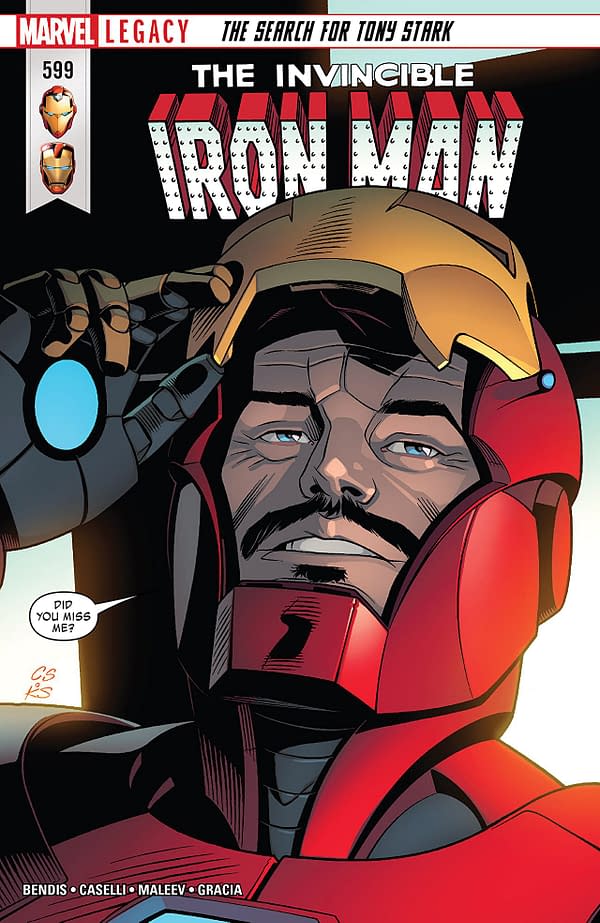 The "Tony Stark is back" angle of this issue is a bit superfluous considering that he's been in recent issues in a minor capacity anyway. However, he does have far more page time in this issue.
I'm still not a fan of the "everything links back to S.H.I.E.L.D" angle of Tony Stark's true parentage, and it reaches a new level of ridiculous in the last section with Ironheart. Without spoiling too much, think Jonathan Hickman's S.H.I.E.L.D maxiseries.
All this aside, I did enjoy most of this issue. It's nice seeing a more vulnerable side to Iron Man. Doom's part is interesting enough. Ironheart doesn't have too big a share of this comic, and it's overshadowed by the dramatic reveal. Tony's part has a bit of a dramatic reveal too, and it's almost as silly.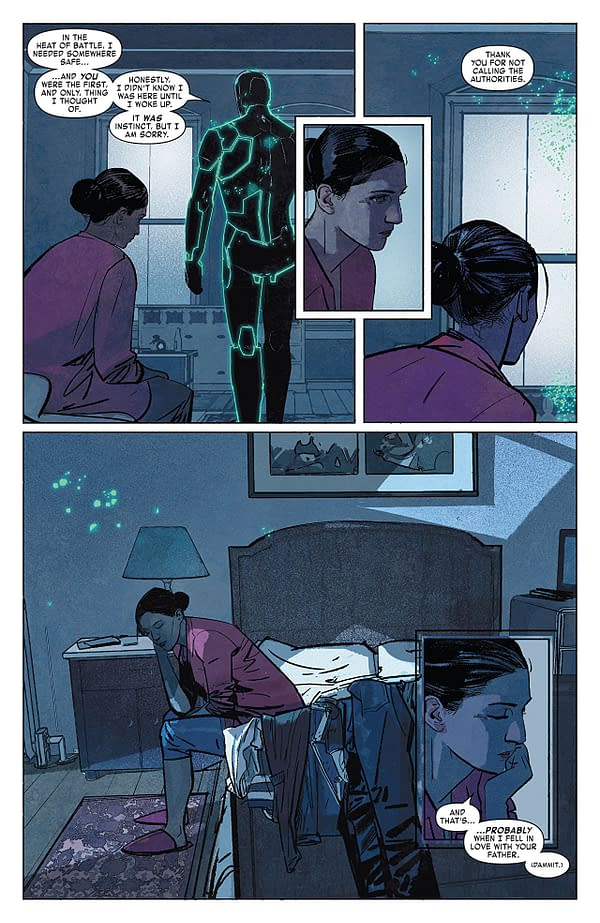 Stefano Caselli and Marte Gracia share the art with Alex Maleev once more in this issue, and it continues to do a good job of dividing the two concurrent narratives running in Invincible Iron Man. Both Caselli and Maleev are talented artists who bring their own style and substance to the game, and both Gracia and Maleev perform some rock-solid color work in their shares.
Invincible Iron Man #599 is a solid enough comic, and, if you've enjoyed this series, I doubt that you will be too put off by the silly dramatic reveals. It has its peanut butter-flavored Bendisian personality, for which I'm a sucker. It's charming and has some good dialogue. I can recommend it in the end. Feel free to check it out.