Nightwing vs. Hush #1 Review: The Cutest Bachelor Party Ever
Superman and Nightwing are throwing Batman a bachelor party. After a meal at Bat Burger, Superman shows a dimensional portal to a world where the three can fish in peace. An explosion draws Superman away, and Hush attacks in the chaos. Batman and Nightwing wrestle Hush until he and Nightwing tumble through the portal, which was damaged in the fight. It leads the two into the Betwixt, the place between dimensions.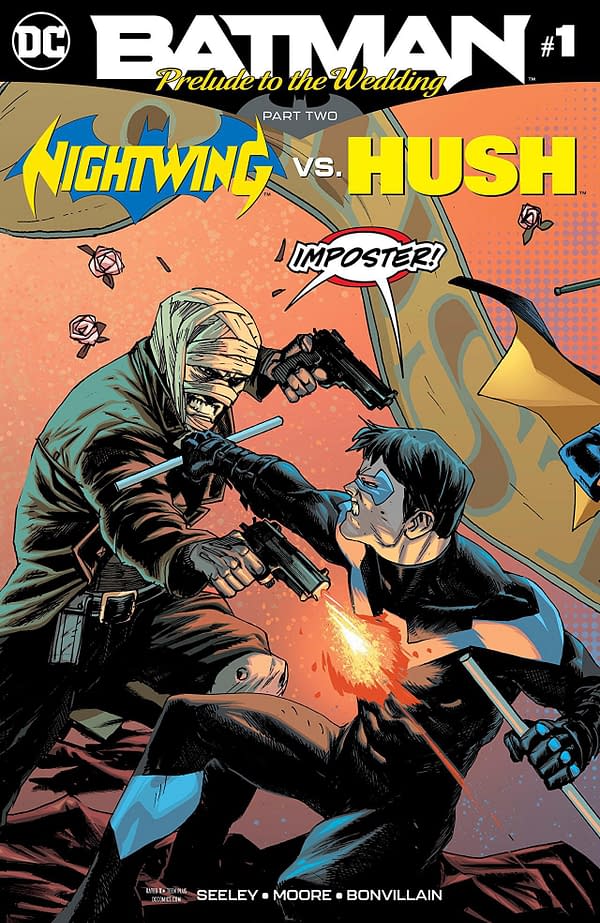 Nightwing vs. Hush has a good balance of upbeat and heavy moments. The opening finds Nightwing, Superman, and Batman comically dressed in their costumes for the bachelor party due to the secret nature of Bruce and Selina's nuptials. Clark and Dick rib Bruce the whole time, and the peaceful fishing dimension seems oddly perfect for it all.
Things take a bizarre with Hush and the impromptu trip into the Betwixt. The latter is an oddly brilliant creation on the part of Tim Seeley, serving as what could be a modern cautionary fairytale type of thing. Tommy Elliot makes another disturbing revelation about what he's done with his plastic surgery talents.
The only notable drawback is that some of the dialogue is overcooked and comes off as inorganic. That said, Batman is written especially jolly and sincere in this issue, so it's a give and take.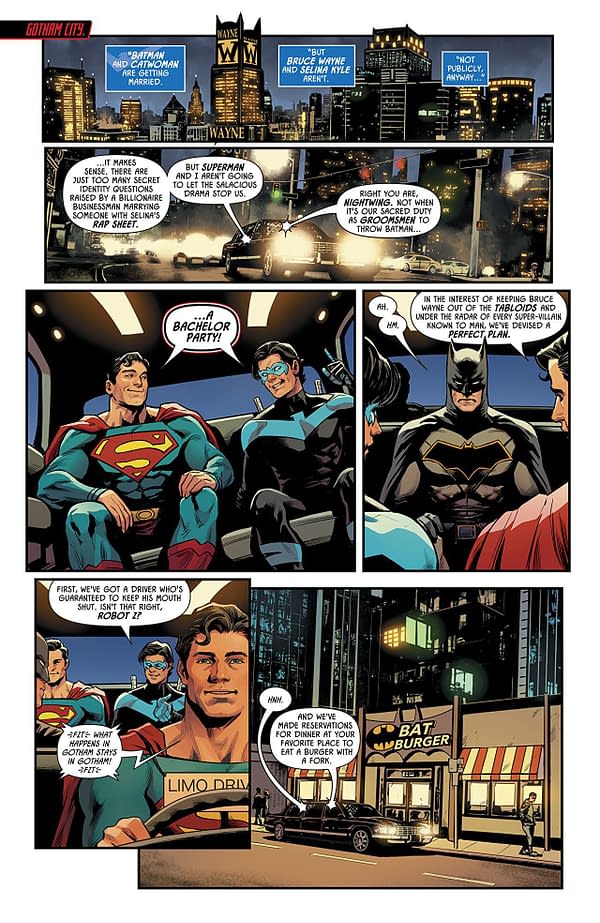 Travis Moore handles the bulk of the art in this issue, with Otto Schmidt drawing the epilogue once again. It looks great, giving a lot of detail and texturing to the world. The characters are given impressive figures, and the expression is effective. Schmidt's work gives an unnerving epilogue to the book. Tamra Bonvillain's color work is dynamic, bold, and well contrasted, adding even more life to this vibrant book.
Nightwing vs. Hush is an even stronger entry than the previous Batman: Prelude to the Wedding issue, though I will admit being a fan for both Nightwing and Hush. The story is strange and interesting, the action beats are solid, and the artwork is excellent. This one earns a recommendation. Give it a read.