Posted in: Comics, Recent Updates | Tagged: A Voice in the Dark, adventure time, aphrodite ix, aquaman, avengers world, batwoman, bprd, buffy, Clockwork Angels, Comics, Cure, daredevil, dark horse presents, fuse, gi joe, harley quinn, illegitimates, iron man, Lazarus, loki, magic, ms marvel, my little pony, new avengers, nova, Okko, pandora, rocket girl, samurai jack, sex criminals, Skyman, star wars, suicide risk, suicide squad, supergirl, superior spider-man, Superman Unleashed, terminator, transformers, uncanny x-men, undertow, Utrom Empire, white suits, Witcher, wonder woman, x-men, zero
---
Forty-Seven Thoughts About Forty-Seven Comics – Aquaman, Nova, Avengers World, Pandora, My Little Pony, Batwoman, Iron Man, New Avengers, X-Men, Harley Quinn, Aphrodite IX, Undertow, Suicide Squad, Suicide Risk, Star Wars, Wonder Woman, Terminator, Buffy, Daredevil, Uncanny X-Men, Superior Spider-Man, Superman Unleashed, Ms Marvel, Loki, Okko, Samurai Jack, Witcher, Utrom Empire, Supergirl, Sex Criminals, Adventure Time, Clockwork Angels, Cure, A Voice In The Dark,, BPRD, White Suits, Skyman, Zero, Dark Horse Presents, Transformers, Magic, Illegitimates, GI Joe, Fuse, Lazarus And Rocket Girl Thanks to Jeff Lemire on Aquaman, I am totally wanting my kids to draw a superhero book with me as the lead. I wonder what I can bribe them with? Obviously, My Little Pony comics of course. And good to know they can both read better than a pony… From Nova… hang on, didn't they have a Skrull Invasion not that long ago? Didn't Fear Itself get everywhere? How about when the Thanos took away half the population? What about Galactus? Surely even this hick town couldn't have missed it all? Avengers World manages to get Bruce Banner to point out one of the flaws in the mega casting so far. He should be on an internet message board. Maybe he already is. And the entire Batfamily modus operandi comes crashing down as well in Batwoman… Really Iron Man? The show turned you into a pervert? And not banging your way around the galaxy, regardless of species? Not that there's anything wrong with that… And New Avengers has a go at its fellow storylines… you know, I didn't think Mark Millar's Red Son was that bad! Maybe you should ask Nightcrawler in X-Men, he might have a different take. Even th Beast seems to have come round on this particular one. Not human? Pandora if I were you, I'd keep a close eye on Tony Stark. Especially if he brings along any… equipment. You know what I'm talking about. And so does Harley Quinn. Say, is this the first use of "personal massagers" in the New 52? And in Aphrodite IX #9 we can see how those devices can have… other uses. Though Undertow #2 seems to insist that they're not as good as the real thing. Well, yes Boomerang in Suicide Squad, with that kind of hand held equipment, you probably could as well. Say, I know someone you should meet. From Suicide Risk Vol 2, we have the demonic entity known as Aksholer. How do you pronounce that again? What kind of hole? The kind that, I don't know, this starcruiser from the new Star Wars comic might be able to make? You know, I think you might have just let the neighbourhood go a bit. I think Heaven needs some gentrification in Wonder Woman, straight away. Also, you're a bit of a fixer upper yourself… Terminator : Enemy Of My Enemy#2 might have some ideas how to deal with that. Even if Buffy Season 10 #1 might provide some competition. I'm surprised that New York water tower in Daredevil managed to survive that long without superheroes and super villains using it to hit each other with/smash into leading to a flood/send plummeting down to the street, only to be snatched away at the last second. Poor guy. Being in the Uncanny X-Men can be rough on a fellow. Look, we checked into the Fantastic Four movie story properly okay? We really did. Thanks Superior Spider-Man Annual … and yes, readers of the regular storyline will probably need to pick this one up too. I want that on a T-shirt, Superman Unleashed. C'mon, how many other folks do you know with their own personal revenge mosque squad, than from Ms Marvel? Any other religious-based violence to hand? Why yes, it appears Thor from Loki Ragnarok and Roll #2 wants to get in on the act. And the holy order of the samurai show they're something not be messed with in Okko Vol 4 – The Cycle of Fire. There are more pressing concerns for Samurai Jack #6 taking a night time walk. Just be careful and don;t fall in or you never know what might happen. Witcher #1 does like to use the word drown a lot. Almost as if it is drowning in it… could anyone else use that water. I can think of one fellow in Utrom Empire #3… Funny, they could have used her over in Superman Unleashed, which is going through the same thing this week. Supergirl shows us why these secretive spy megaconglomerates exist! I confess, thanks to Sex Criminals #5, I have just googled "kegelface". I thought I knew. I needed to be sure. And now I will never forget ever again, not even if you scrub my brain with mind rubbers. In Adventure Time #26 this, apparently, isn't some screaming hideous nightmare to wake you in a cold sweat, gripping the sheets with one hand and your heart with another. Different strokes. Clockwork Angels #1 gives us the wind-up dog. And not in the usual way by saying "walkies" repeatdly but never even approaching the door.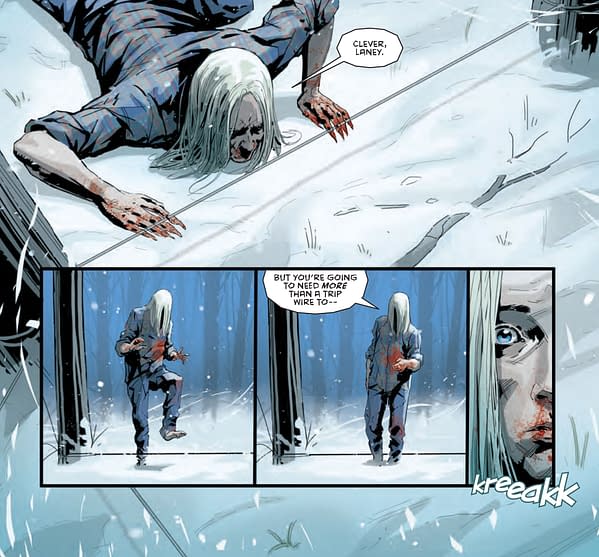 Curse #3 give us the distraction technique. But thankfully all secondary booby trap have special sounds when they are activated, as opposed to doing their job and being quiet. A Voice In The Dark #5 makes me feel so very very old. Poloroids have to be explained to the audience now. Or at least the younger characters within… In BPRD #117, the scenery really comes alive. Are those vent pipes really trying to get a look down he sights themselves as well? White Suits #2 shows us the latest in diplomatic language protocol. Thank you Skyman #3, before any kind of supercharacter fight, it's good to lay down what is expected of the participants in a full and forthright manner. Why not draw up a contract? Call it a pre-kerpow.
There's a lot of frankness going around today, thank you Zero.
Oh yes, I should point out, I have a comic story out today in Dark Horse Presents #34. The conclusion to The Library In The Body, the second Many Murders Of Miss Cranbourne story. There may, apparently, by other comics in this anthology as well that might even be worth checking out… Transformers Robots in Disguise #27 shows us that you never want to get on the couch with Shockwave. While Transformers Regeneration One shows us that you can go back home, at least if it's your hundredth issue… technically. I thought that was quite a magical proposal in Magic The Gathering: Theros #5. I mean, I'd have said yes. Yes, Illegitimates #4, that's exactly how dibs work. I look forward to everyone respecting that call, don't you? G.I. Joe #14 takes on the Twitter generation as its embedded tweeter isn't that pleased with the commercially handy role the character has been prescribed. Breaking the on pack programming?
My ass quit years ago. Thanks for the reminder, Lazarus.
Fuse #2 goes straight for the stereotype. I don't know, I know many funny Germans. What can I say, they have ways of making you laugh. While Rocket Girl shows the the impact of removing racial profiling from enforcement officers of all descriptions…
So, what have you been reading this week?
Comics courtesy of Orbital Comics, London. Currently exhibiting the work of Des Taylor. ---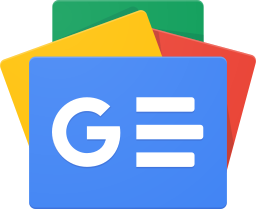 Stay up-to-date and support the site by following Bleeding Cool on Google News today!