***SITE UPDATING*** Bring Out Your Dead 813: Bleeding Cool's #TheWalkingDead Live-Blog!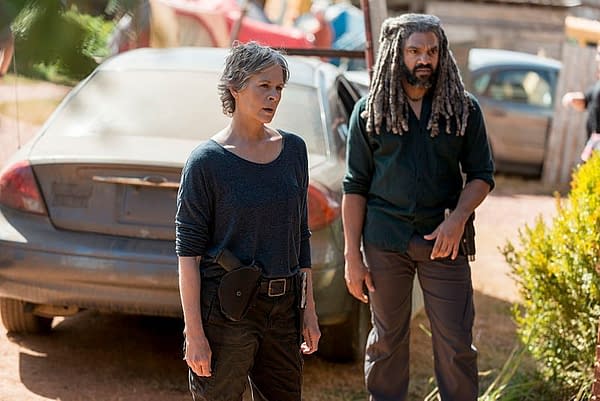 UPDATE: Thanks for joining us tonight! See you next week!
UPDATE: "You know what it is! YOU KNOW!" -dead Gavin to Morgan (???) /// "The cost." -Maggie, explaining what she was thinking about while looking at the graves…as Rick uncomfortably walks away ///
UPDATE: Morgan, Daryl and Rick are cleaning-up the remaining walkers and trying figure out what happened /// "He wasn't bit. But he turned." – Carol /// Rick is telling the crew that Negan's bat was covered in walker junk, realizing the bio warfare they're waging now /// A dting man begs for them to kill him /// Rick and Daryl are with Enid, Rosita and Tara /// Daryl is telling them about Negan's plan /// Some of the Saviors stayed to help, to try to fortify the gates
UPDATE: Henry is talking to Gregory, and Henry is asking him which Savior killed his brother /// Ummm, he knows how to use that stick, Gregory /// AND NOW THE SCREAMS!!! /// IT'S MASS AMPUTATION TIME, FOLKS!!! /// YOU'RE AN IDIOT, HENRY!!!! /// HE OPENED THE GATE!!! /// Of course the Saviors escaped… /// CAN WE KEEP CHILDREN AWAY FROM CAROL, PLEASE?!?!?!?!!?!?!?
UPDATE: I think we're about to get the revelation about the infected weapons!!! /// NOOOOOOOOOO!!!!! /// The wounded are dying and turning!!! /// HOLY CRAP THEY'RE GOING TO FEAST ON THE RESTING WOUNDED!!!! /// THIS EPISODE IS ROUGH!!!
UPDATE: Another good episode so far: nice balance of action and storyline, though the Daryl/Tara/Dwight thing needs to come to a head like yesterday /// We're back with Rick loading his gun, as Siddig offers to treat Rick's wound so it doesn't get infected /// I'm worried Andrew Lincoln's going to get his wish /// Rick isn't in that place yet to heat what Siddiq has to say…BUT HE DIDN'T CLEAN HIS WOUND!!!
UPDATE: Carol is confessing why she left: because it was getting too real /// "I don't think it ends." -Carol /// "The end of the fight is what we're fighting for" /// "That just means we get tomorrow. Maybe one more night. Maybe one more morning. After that, no guarantees." -Carol /// And that does NOT bode well for Henry's or someone else's future
UPDATE: Wait…Rick got cut…?!?!?!? /// Michonne is trying to talk to Rick, to get him to open up /// "I had to try. I had to." Rick, about going after Negan /// Now we see the burying of the dead, and I feel like we're close the revelation about the wounds /// "I'm glad you see them that way. As people." /// "You saved the gates. You saved the community. You saved lives." /// Maggie is confessing that she's inspired by nothing less than Negan's death
UPDATE: Having fended off the Saviors, Tara and Daryl and discussing Dwight /// Tara brings up Merle, and then Daryl brings up Dwight killing his girlfriend /// "I saw what I saw, too" – Daryl, who is not Dwight's biggest fan right now
UPDATE: "I don't die." – Morgan (uh-oh)
UPDATE: RICK AND THE CREW! WAVE II! /// And that sounded a little like KNIGHT RIDER music! /// "Just stay down." -Rick to Siddiq //// "You know what it is!" -dead Gavin to Morgan /// "I wanted them dead. All of them." -Maggie /// Rick and Maggie are a helluva team!!!
UPDATE: INFECTED ARROWS!!!! /// Simon is Maggie's Negan /// All out fire fight at The Hilltop! /// They're about to realize that the weapons are infected /// And the fight has now been cast in darkness /// Was that Tara that got hit?!?!?!?!?!
UPDATE: So Simon and Dwight are outside the Hilltop, and Maggie is asking to speak with Negan…but ends up speaking with Simon /// "Let me offer my condolences. For what happened, and for what's about to happen." -Simon /// Maggie just threatened all 38 Saviors she has in custody with a bullet for each /// Simon just called the Saviors in custody "damaged goods" /// "Which is my way of saying, 'Screw them!'." – Simon
UPDATE: "So stop asking me what I've done, and tell me what to do." -Siddiq, who earns his trust in the Hilltop hospital.
UPDATE: Here we go! We start with Morgan by a truck in the woods, as he's hallucinating Gavin /// The sound of a car horn /// now Morgan signals /// now Daryl with an air horn /// The Hilltop is readying itself for an attack /// Ezekile orders Henry to stay inside /// "You live. Help others do the same." -Ezekiel
Go behind-the-scenes to see how the crew created the wild fight scene between Rick and Negan:
UPDATE: Thanks to some tech issues on our live-blog host's end, we're going "old school" and updating the site raw tonight so please make sure to refresh, and I'll keep the newest stuff at the top!

While I know there were some way-too-real things going on earlier in the evening on CBS (*cough! Stormy Daniels cough!*), let's shake off some real-world creepiness with this week's edition of Bring Out Your Dead!: Bleeding Cool's The Walking Dead Live-blog!
Rick (Andrew Lincoln) and Negan (Jeffrey Dean Morgan) got into a little fender-bender that resulted in some long-distance road rage and a flaming Lucille fight. Simon (Steven Ogg) got into Dwight's (Austin Amelio) scarred ear about abandoning Negan's plan and taking the Saviors in a different direction – a deadlier form of "scorched earth" than Negan ever imagined. Maggie (Lauren Cohan), Michonne (Danai Gurira) and Enid (Katelyn Nacon) met the enigmatic Georgie (Jayne Atkinson), who exchanged "the key to your future" for some food and albums.
Oh, and the Rick/Daryl (Norman Reedus) bromance? All good. Negan and Jadis' (Pollyanna McIntosh) relationship? Not so much…as we take a look at this week's "lucky thirteenth" episode of AMC's The Walking Dead, 'Do Not Send Us Astray':
The Walking Dead Episode 8×13 'Do Not Send Us Astray': Trouble arises when unexpected visitors arrive at the Hilltop and the community is thrust into action; heartbreaking discoveries are made.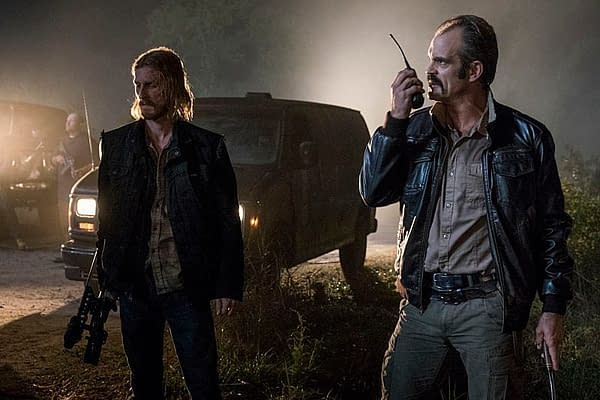 ● This page should update…but just to be on the safe side I strongly suggest you refresh every now and then to make sure because I've been known to ramble often and quickly.
● If you're going to social media to talk about what we're talking about, go with: #bclive and #liveblog.
● While you're waiting (or if you just need a breather from my raw, uncut cult-of-personality), check out some of the cool The Walking Dead stuff we have for you below.
● So that's it! Welcome to 'Bring Out Your Dead!

Here's a look at our recap of The Walking Dead's twelfth episode, 'The Key'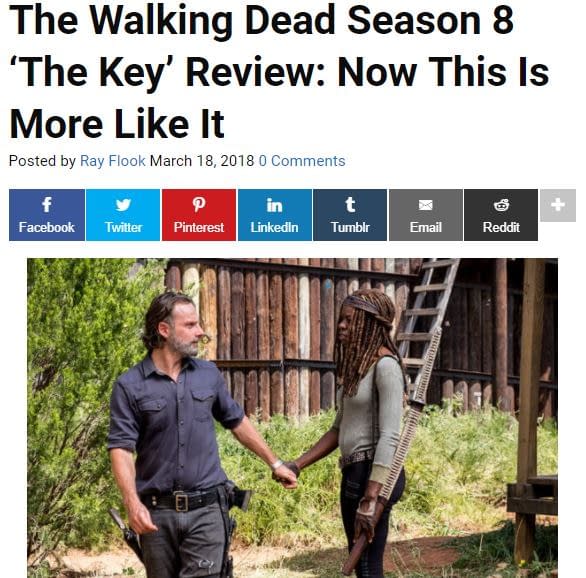 AMC offers us a reminder look at last week's insanely intense face-off between Rick, Negan and a flaming Lucille:
The Walking Dead stars Andrew Lincoln (Rick Grimes), Jeffrey Dean Morgan (Negan), Norman Reedus (Daryl Dixon), Lauren Cohan (Maggie Greene), Danai Gurira (Michonne), Melissa McBride (Carol Peletier), Lennie James (Morgan Jones), Seth Gilliam (Father Gabriel Stokes), Alanna Masterson (Tara Chambler), Christian Serratos (Rosita Espinosa) and Khary Payton (King Ezekiel); with Gale Anne Hurd, Greg Nicotero, David Alpert, out-going showrunner Scott M. Gimple and franchise creator Robert Kirkman serving as executive producers.