The Weekly Static s01e27: Tosh Renews, Flair "Wooo"s, and Tons More! On behalf of every heartbroken soul here at The Weekly Static, our thoughts and prayers go out to the victims of the tragedy at Stoneman Douglas High School, their families and the community.
Kinda crazy how it feels tonight, and kinda crazy how you make it all alright. You crush me with the things you do… and I do for you anything, too. Sitting, smoking, feeling… The Weekly Static!
While I'm sure Dave Matthews and the band are a little too busy touring to appreciate my respectful paraphrasing… because have I got a deal for you! If you order the Copper Cooker 9000 by the time this infomercial ends (and I can't believe I'm about to do this) we'll send you — free of charge except for postage-and-handling — your very own: The Weekly Static is our righteously desperate-yet-endearing look at the past week in the land of the networks, cable, streaming, smoke signals, cloud formations, and shadow puppets from an interesting, unique and entertaining perspective. At least that's how it reads on paper… let's see how this goes:
So we here at The Weekly Static are making you, our faithful viewers, these three promises about what you can expect from us — because we're cool like that:
● Offer a blunt, honest perspective on about five random TV news post topics from the past week that also highlights your relentless team of news-thirsty Bleeding Cool writers and the quality work they do. My views are my views and not a reflection of the opinions of those who wrote the article. Translation? I own what I say 110%.
● Spotlight a news item that we missed when it first hit, but we're pretty sure you'll still find it interesting.
● Feed my voracious ego with copious amounts of praise, adulation, social media shares, pizza, Superman Funkos, Eisner Awards, write-in votes for the 2020 U.S. Presidential Election (…it's getting close…) and a "big box" from Pomme Frites — with five dipping sauces!
Comedy Central Renews Tosh.0 Through 2020
Ric Flair Briefly Sells $50 Sexual Consent Contract for Valentine's Day Before Removing It
The CW to Expand to Sunday Night Primetime Programming
ReedPOP, Syfy Wire to Live-Stream NYCC, ECCC and C2E2 in New Deal
Cobra Kai: First Look at Ralph Macchio, William Zabka 'Karate Kid' Series

Julia Louis-Dreyfus "Ready To Rock" After Cancer Surgery, Shares Photo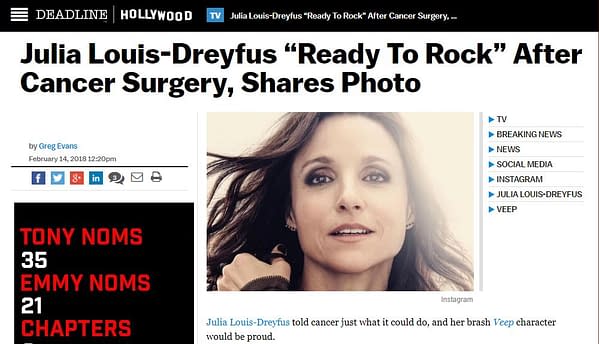 "Julia Louis-Dreyfus told cancer just what it could do, and her brash Veep character would be proud.

'Hoorah!,' Louis-Dreyfus posted on her Instagram page today. 'Great doctors, great results, feeling happy and ready to rock after surgery. Hey cancer, 'F*ck you!' Here's my first post-op photo.'…"