REVIEW: King Of Nowhere #1 — "A Baffling Creative Experiment"
(Boom! Studios, creative team: W. Maxwell Prince, Tyler Jenkins, Hilary Jenkins, Andworld Design)
… whaaaaaaaaaaat? A veritable cipher of a protagonist who voiceovers relentlessly about his bad ideas instead of showing them wakes up … well, nowhere. In this mad place, there are gigantic set pieces and a humanoid deer driving a jeep and an angry man with six arms. Looking at this artwork might remind you of a watercolor painting with something spilled across it, and the "plot," such as it is, makes Twin Peaks look like CSI by thematic comparison. It's not fantasy, but it's not magical realism … what exactly is this? A baffling creative experiment. RATING: NO. JUST … NO.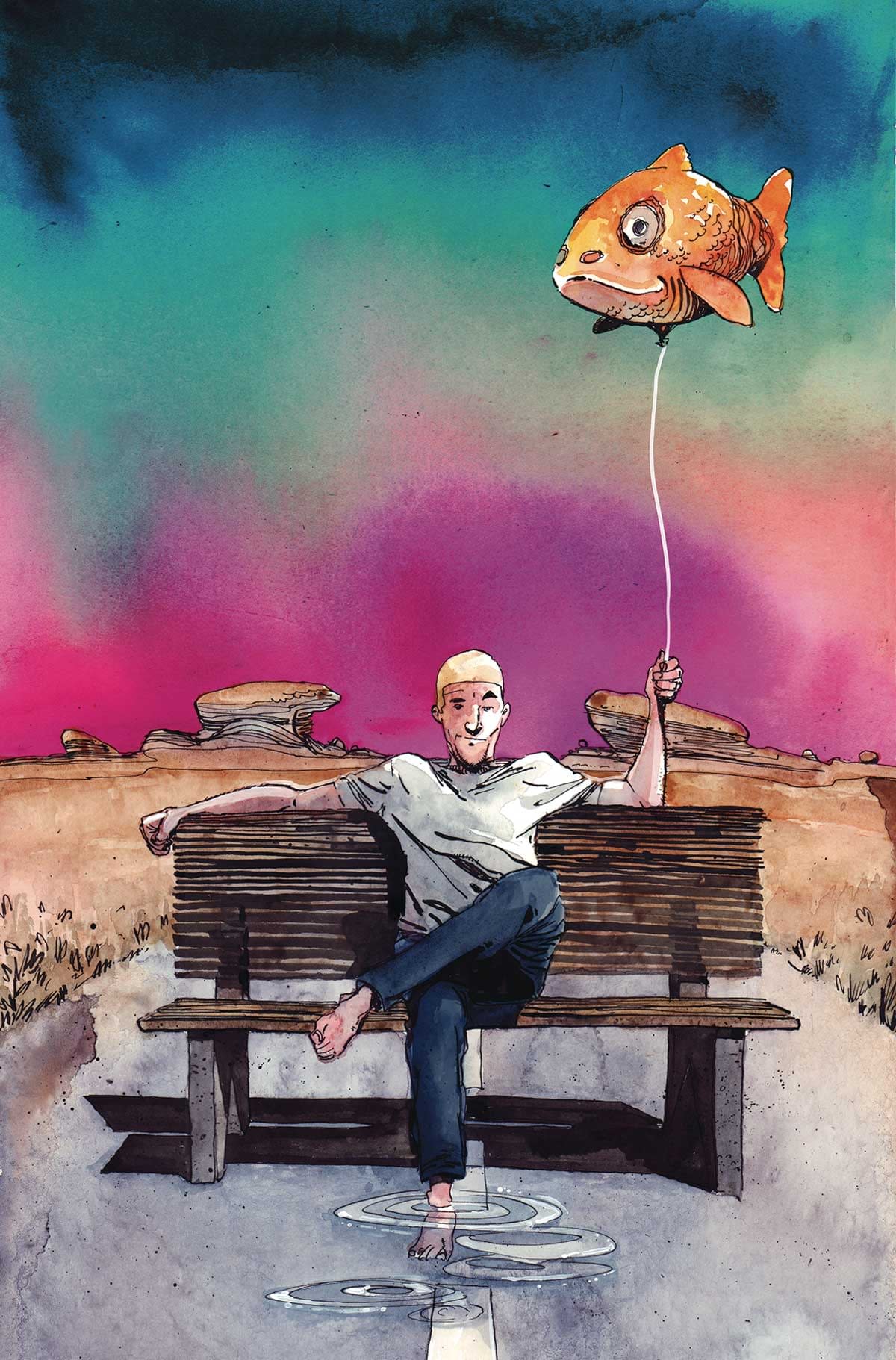 KING OF NOWHERE #1
Writer: W. Maxwell Prince
Artist: Tyler Jenkins
Synopsis:
– Eisner Award-nominated writer W. Maxwell Prince (Ice Cream Man) comes to BOOM! Studios with Eisner-nominated artist Tyler Jenkins (Grass Kings, Black Badge) for an unforgettable thriller that explores the miraculous, the mundane, and all the mysteries in between.
– Lovable drunken lowlife Denis awakens on the outskirts of a mysterious village called Nowhere, home to a friendly populace of deformed, mutated, just-left-of-normal citizens—and he has no memory of how he got there.
– But just when Denis starts to regain his memories, his past catches up to him… literally.
– What at first seems like merely a bad trip quickly heightens into a drama of mistaken identities, small-town conspiracy, and high-stakes fantasy fulfillment.