Some Things Are Broken, And Just Cannot Be Fixed…
Shane W Smith writes for Bleeding Cool:
In my brief career in comics, I've done work for others for free, for exposure. I've had a great deal of work published that I never saw a cent for (somewhere in the vicinity of 100 pages so far – that's writing and artwork). While I'm not bitter about that, and treasure the experience, contacts, and exposure I got from those projects, I do sometimes regret not fighting a little harder for some consideration, especially in those instances where someone else made money for it.
I thought it was just the done thing. Not getting paid, it's like an internship, right? It leads somewhere.
But that's not the case. It's just a broken economic model.
I've been fortunate enough to have my work picked up by Zetabella Publishing, who were courageous enough to take on an unpublished, unproven writer with big dreams and an unorthodox style. I value this work and this achievement. There's nothing quite like the feeling that your work, your vision, has value.
Somewhat paradoxically, the most important part of getting paid isn't the money. It's the sense of self-worth that accompanies the confirmation that the work has value.
I want to share that feeling with other creators.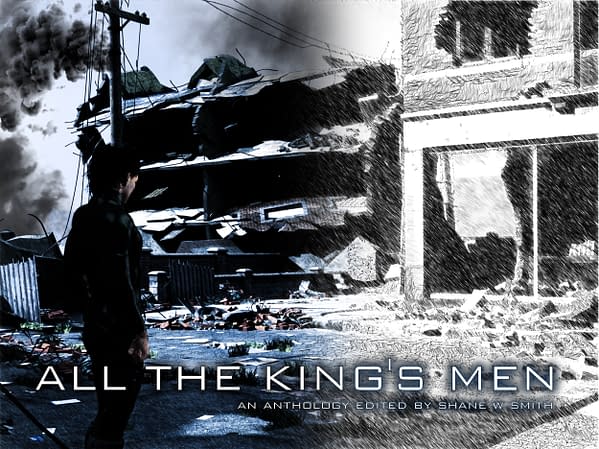 I have opened submissions for an anthology entitled All The King's Men, which is set in an already-established science fiction universe. For a writer or artist looking to break in, they could do a lot worse than attaching their name to this book, which takes place in a well-established and well-respected science fiction universe. Even though it hasn't yet been written, the book has already attracted interest from Zetabella Publishing.
The theme linking all stories in this anthology together is, perhaps unsurprisingly, the notion that sometimes things are just broken, and cannot be fixed.
In this world, civil wars are political tools, addictive drugs are revenue raisers, and the life of the man in the street is worth about… Okay, yeah. It's basically the world as we know it today, in space. People live, dream and die, and – living under the oppressive boot heel of the Senate – don't get a chance to do much else.
Society is a broken concept. Individuals are broken entities. They may all be impossible to fix. But the odds against success aren't going to stop them from trying.

Although the exposure for this book is good, all contributors will be still paid fairly for their work. There will be no working for exposure, no working for royalties that might never materialise; if it's good enough to get in the book, it's worth paying for. I have launched a Kickstarter project to raise the money for these wages. The more successful the campaign, the bigger the payday for the contributors.
They might even get paid what they're worth, a true rarity in the indie market.
There are plenty of moral reasons to support this campaign. The book cannot exist without the support of the community. Fair pay for artists is an issue that has the potential to affect us all, as consumers of entertainment.
But the most compelling reason of all to make a pledge to the Kickstarter campaign is the amazing line-up of talent that has already expressed an interest in contributing. That's proof enough that this book is going to be incredible. Emotional, poignant, intelligent, and utterly gorgeous.
There is a massive amount of content that you can unlock with even a small pledge. Please support the book today, either by submitting a story, or by pre-ordering your own copy.
I don't know if I can fix the issue of working for exposure. It might be that it's broken, and just cannot be fixed. But that's not going to stop me from trying.
Shane W Smith is the editor of the anthology and is happy to answer any questions. He can be contacted at shane@shanewsmith.com
Submission guidelines for All The King's Men are available here: http://shanewsmith.com/atkm
The Kickstarter campaign can be found here: https://www.kickstarter.com/projects/shanewsmith/all-the-kings-men-300-page-anthology