Swamp Thing: New Roots #1
8/10
Without leaning as heavily on humor, this issue follows in the tracks of Wonder Twins to prove that Mark Russell is one of the smartest, subversive writers working in mainstream comics today. With an apparent crystal dig at real-world Frankenscience, Swamp Thing takes a clear stand against GMOs created by a company called Sunderland Foods. The powers behind Sunderland are clearly shown to be jerks — both indirectly ("For twelve bucks an hour?") and directly (one woman executive's plan to invent a renewable crop in the most horrible and imperialistic of ways), so seeing them in an unsympathetic light is not even very hard for the reader.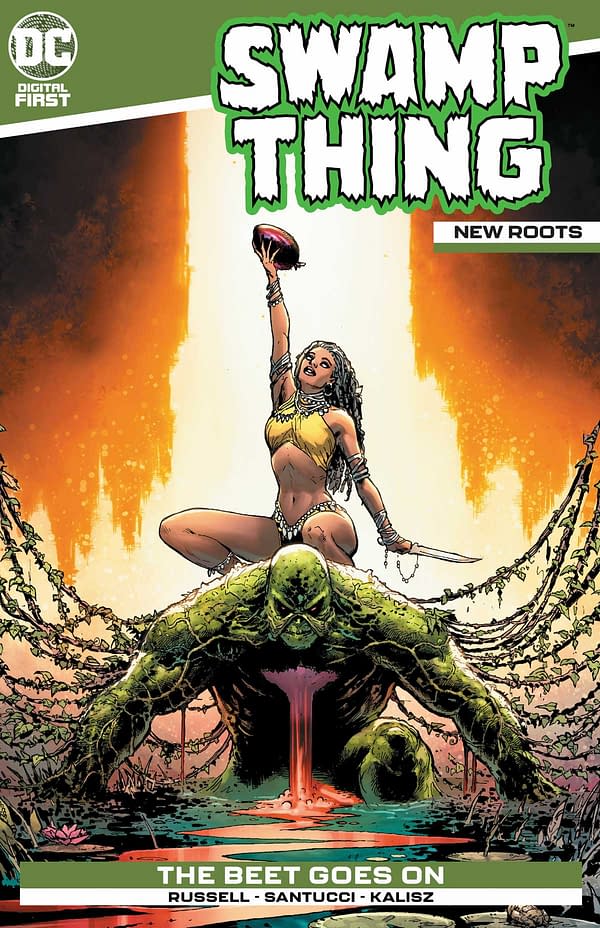 There's a key plot element that mirrors a very interesting Q&A from the Matt Groening tome Love is Hell that said …
Q: Would the ones I love ever hurt or betray me?

A: Who else would?
… and plays itself out with delicious irony, all tying together every element of the issue.
The visual storytelling by Marco Santucci, John Kaliz, and Comicraft's Jimmy B does wonderful things with camera angles (look for the page with the phrase "unbelievably toxic"), and action scenes as the title character proves himself to be a weapon of mass destruction when properly motivated. The contrast of the marshy pastoral moments in more rural surroundings to the shiny topped conference tables incorporates structures that are very useful in terms of linework. Likewise, look for the clever use of shadow and lighting ("Want some company?") and colors that clearly delineate character from background alongside captioning that's very clear about who's speaking. These seem like simple things, but you'd be surprised how many books get it wrong … well, used to get it wrong, when there were so many more books, before the end times.
As another brilliant done-in-one, this issue eschews lengthy explanations of origins (there are wikis for that) for focusing on character and plot, delivering clarity and nuance in equal turns. RATING: BUY.
Swamp Thing: New Roots #1
The Sunderland Corporation has a new plan to trap and exploit Swamp Thing. With enemies surrounding him, who can Swamp Thing trust?
Enjoyed this article? Share it!