Twenty-One Thoughts About Twenty-One Comics – Uncanny X-Men, Superior Spider-Man, Darkness, Cyberforce, Aphrodite IX, Kiss Me Satan, Buzzkill, Harbinger, Bounce, BPRD, X-Men Legacy, Conan, X-O Manowar, Bloodshot, Morbius, Savage Wolverine, Savage Dragon, Zero, Peter Panzerfaust, Morning Glories And Dream Thief
Another week, another lovely pile of comics. We've already looked at Villain's Month and Infinity books, but what else is kicking around today? So… Deadpool no longer thinks he's in a comic book? It's a sad, sad future in Uncanny X-Men. By the way, do who have any confirmation on which Jean Grey, the Jean Grey from the future is? Is she the old Jean Grey revived once again, or is she the young Jean who stayed on in the present and became the older Jean in the future? Because my brain is starting to hurt again. Talking of which… There's a short story by Isaac Asimov called The Dead Past (spoilers) in which time travel has been outlawed, because technology allows people to view anywhere in the past. And the past can just be one second ago… and that's what Horizon Labs have invented in Superior Spider-Man. happy goldfish bowl everyone!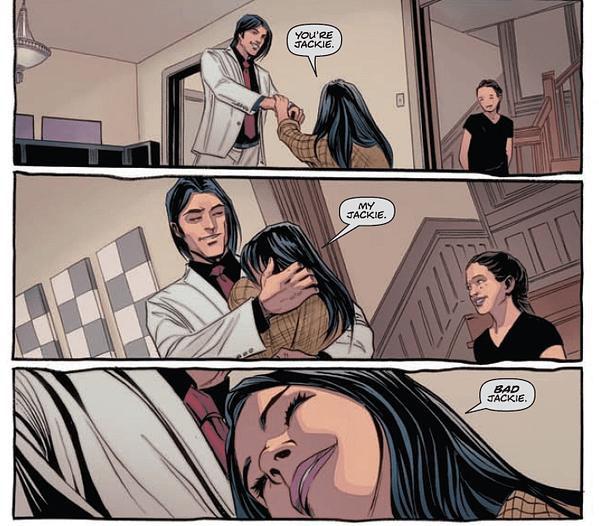 Okay, so heroes can't be happily married. But, in The Darkness, anti-heroes can be… Cyberforce goes for bottoms first.
In Aphrodite IX, some girls don't need a dragon tattoo. They are a dragon. Nothing moves but their eyeballs in Kiss Me Satan #1… don't have an accident in that thing in your first issue, okay?
Too late for Buzzkill #1… And Harbinger has a vehicle that, basically, no one wants to get in an accident with. Of course, there are other ways to get around.
And Bounce knows plenty of them. Though this travel-by-Care-Bear-Stare is one of the best. Too many eyes watching me in BPRD today.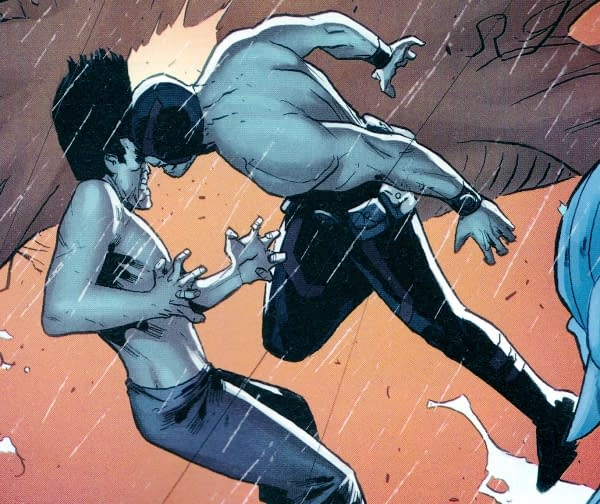 Thankfully Cyclops helps lower the average per face to something more mangeable. He also goes for the head butt in X-Men Legacy, a superhero fighting move rarely seen. You now, he probably couldn't have done this as well before he lost his bulky visor… No, that's two words. Learn to count, Conan. X-O Manowar expands the immigration policy of the United States Of America. It won't last. While Bloodshot And The HardCorps brings back a familiar, if not entirely welcome, face. Yours alone, Morbius, The Living Vampire? Easily achieved, your book is cancelled with this issue. And no one will bother you again… So, apparently this comic is called Savage Wolverine. I wonder why? And, apparently this comic is called Savage Dragon. I wonder why? Anyone for Sushi? Or do you have anything you'd prefer to eat?
Have you got any ketchup with that, Zero #1? Seriously, there's just too much cannibalism in comics right now. I hope you weren't being literal there, Jacques. Peter Panzerfaust can cope with many things but please don;t let it join the cannibal ranks… What they need in Morning Glories is a Dream Thief. Say, can you delve into my dreams and find what my favourite band was when I was nine? Oh dear. Don't worry, I discovered The Jam shortly afterwards.
Comics courtesy of Orbital Comics, London. Currently running Sophie's World, an exhibition highlighting the photographs of Sophie Aldred by Steve Cook.