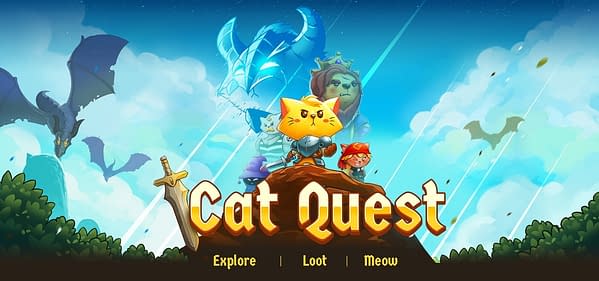 If you have a console version of Cat Quest, you now have three new reasons to go on and play the game. You know, if a cat-based RPG isn't enough for you. The PlayStation 4 and Nintendo Switch versions of the game have received an update that brings new modes and a holiday quest from the PC version to these iterations. It is immediately available for download now.
The holiday quest is the Kitmas Quest which should tell you everything you need to know. Players can meet with a character at Queen's Resort to go on a side-quest that will eventually lead them to meet the legendary Santa Claws. Yes, they did go there.
New Game+ is the first of the two new modes. After beating Cat Quest once, you can restart the game and retain your level and equipment. The second is Mew Game, which is a more challenging version of the game that unlocks after beating it once. After earning it, you can start a new game with various modifiers that can be turned on or off. One keeps you at level one for the entire game, while the other keeps you from equipping armor and weapons. The water walking ability is immediately available in all Mew Game files, regardless of how many modifiers you choose, and playing through with various modifiers turned on will reward you with newly added equipment.
Cat Quest is available for the PlayStation 4, Nintendo Switch, PC, and both Android and Apple iOS devices.
Enjoyed this article? Share it!