EA Announces Madden NFL 19 to Launch in August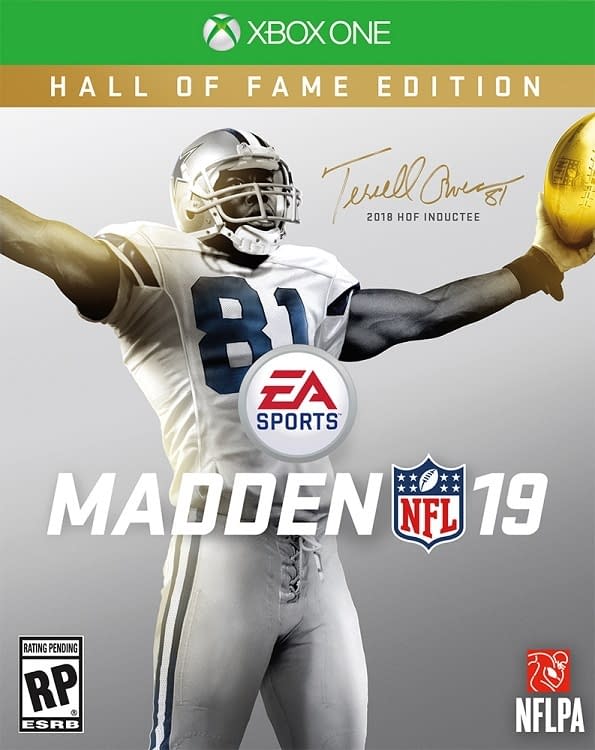 In a move that should shock no one, EA has announced EA Sports' Madden NFL 19, which is slated to release in August of 2018. The latest edition of their best-selling sports franchise was made using Real Player Motion Technology for more realistic player animations, and is also touted to "unlock next level responsiveness and player personality" according to EA's press release.
This year, EA will be releasing Madden three days early on August 7th with the Hall of Fame Edition that will feature six-time Pro Bowl player and 2018 Pro Football Hall of Fame Inductee Terrell Owens as the cover athlete.
The Standard Edition will feature a separate cover athlete (yet to be revealed) and will launch on August 10th as always.
Now, what this will mean for the Madden Curse, we can't say. After all, Tom Brady did escape it, sort of. And Owens is retired. So, that poor Standard Edition cover star is going to be the unfortunate victim should the curse theory continue to hold water.
"We've worked directly with community members on Madden NFL 19 to make a deeper, more immersive football game that gives players what they want – more choice, more control, and key enhancements to fan-favorite modes," said Carlos Guerrero, Sr. Producer on Madden NFL 19. "Real Player Motion technology combined with all new franchise-building tools like Positional Archetypes and the return of Custom Draft Classes are features that football fans will find fun and engaging. Madden NFL 19 steps up the authentic football experience in so many ways."
As part of the announcement, EA went on to detail the changes to Madden 19's Franchise and Ultimate Team modes, as well as the game's pre-order bonuses, which you can take a gander at below.
In Madden NFL 19 Franchise Mode, players can choose the offensive and defensive schemes that best fit their playstyle as they compete in single player and/or multiplayer seasons. Schemes are also linked to a new intuitive progression system – based on authentic positional archetypes – that give virtual coaches the tools and the big decision to either win now or build their squad for the future. NFL fans will also have a top community-requested feature with the introduction of Custom Draft Class Creator where fans can create their own draft classes featuring players from the past and present for use in Franchise.

Madden NFL 19 Ultimate Team gives fans even more ways to choose their path to glory as new training tools let them develop their favorite players their way via Player Upgrades. For players who want to prove they're the best of the best in Solo Challenges, a new curated single-player experience called MUT Solo Battles provides a leaderboard reward system allowing fans to showcase their skills on the field while competing against other top Ultimate Team players.

EA also announced two Madden NFL 19 pre-order offers packed with rewards. Fans who pre-order the standard edition will receive the full game on August 10th and their choice of one Elite Player from their favorite NFL team, as well as five Gold Team Fantasy Packs. In celebration of Terrell Owens' induction to the Hall of Fame, fans who pre-order the Hall of Fame Edition of Madden NFL 19 will receive all the benefits of the standard edition but also 3-day earlier access, their choice of one of five Elite Hall of Fame Legends in Madden Ultimate Team, one Training Pack, and seven additional Gold Team Fantasy Packs. For fans who can't wait to get hands-on with this year's authentic football experience, EA Access members can play Madden NFL 19 first, starting August 2ndon Xbox One. EA Access members will also receive a 10 percent discount when they pre-order the digital version of Madden NFL 19 on Xbox Live.
Madden NFL 19 is being developed by EA Tiburon and will be available worldwide on August 10th for Xbox One and PlayStation 4.