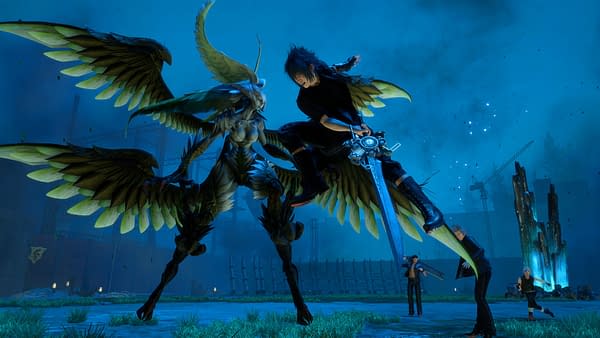 Final Fantasy XIV has hosted collaboration events with a number of other games in the series, though it tends to draw most from Final Fantasy XI. However, a crossover between Final Fantasy XV and the MMO was announced back in June, and it is finally here. While most would expect the crossover to be hosted in Final Fantasy XIV, it is actually a Final Fantasy XV event. And it's just gone live today.
As desccribed back in November, the crossover features an encounter between Noctis and FFXIV's Garuda.
A special FINAL FANTASY XIV Online collaboration event will take place beginning on December 12 at 5pm Pacific Standard Time. Available to all FINAL FANTASY XV players as a free update, the event introduces a new in-game quest titled "Adventurer from Another World." In this quest, Noctis embarks on a journey with the mysterious Miqo'te, Y'jhimei to Perpetouss Keep, which concludes with a fierce battle against the primal Garuda from FINAL FANTASY XIV Online. Players who complete the quest will receive special FINAL FANTASY XIV-themed costumes as a reward.
Like any FFXIV player will tell you, Garuda is one of the easiest primals, with pretty simple mechanics. She's also rather squishy for a boss, and I've had far too much fun soloing her extreme encounter to ever take her seriously in XIV. However, it will be interesting to see how she shakes up combat in Final Fantasy XV since she is one of my favorite bosses, despite being rather easy to defeat.
It also makes sense to add her as a boss encounter for Noctis, since FFXV's version of the usual recurring Final Fantasy bosses do stick rather closely to the versions seen in FFXIV. Discounting Titan, that is. However Leviathan, Ramuh, and Shiva are all very similar. So putting Garuda in with that bunch just feels right.
The inclusion of a miqo'te in FFXV will also be rather interesting to see, since the race of cat-people is a bit far flung from the typically grounded world of Lucis.
To celebrate the crossover, we have a snazzy launch trailer for you, which you can check out below.
Enjoyed this article? Share it!