Flash has a costume in the new Justice League film that can be best described as divisive. Since seen in Batman Vs Superman: Dawn of Justice fans have been on the fence about the more mechanical suit. It looks like an Iron Man armor. I fall into the "I don't like this" camp. I am excited to see Ezra Miller as Barry, but why they decided to go this route with the suit I could not figure out.
And now that I have seen this new Justice League Flash Play Art Kai figure from Square Enix, it all makes sense.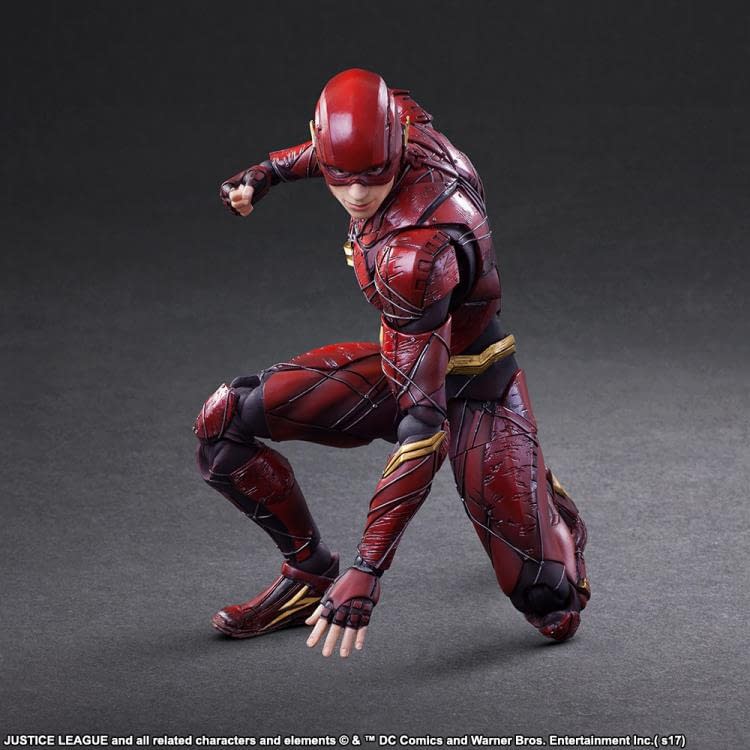 Play Arts Kai Justice League Flash
The motion picture Justice League assembles various characters from DC , with Batman heading up the team. One of the members of this dynamic group is "The Fastest Man Alive", The Flash, now available as a Play Arts Kai action figure!

The sculpt recreates the latest version of his costume, as it is introduced in the movie, down to the smallest detail. The paint application creates a clear distinction between gloss and matte textures, while the color scheme pursues the highest fidelity possible. The overall finish exerts a sense of presence that truly packs a punch!

\At the same time, the action figure allows for a wide range of motions, enabling various poses from the movie. Enthusiasts, who enjoy the true essence of action figures, will be delighted by this high quality Play Arts Kai!
This figure sells the costume for me! Granted, their figures always have a more armored look to them, but their version of Barry looks great! It finally makes sense: Warner Bros. and Zack Snyder and company all are just giant Play Arts fans and decided to make The Flash figure come to life. I mean, look at it. They did a phenomenal job sculpting the suit, and the deep reds really look great here. Their figures are always well-articulated, and this one looks no different.
Like all of their other figures, it is pretty pricey. $150 to be exact. You have some time to decide if you want to spend that much, as this figure does not ship until April of 2018. By then Justice League will have been out and more than likely on your blu-ray shelf. If you want to preorder one however, you can do that right here.
Enjoyed this article? Share it!