Kid Robot Announces SDCC Exclusives, Available To Preorder Now – But Only If You're Going
Kid Robot has a slew of exclusives coming with them to SDCC this year. The Kid Robot booth is usually one of the busiest, so you may want to consider throwing in a preorder now. Among the things they are bringing with them to the show this year are mini-figures, medium-sized collectibles, and in what seems all the rage again, pins. Seriously: a lot of companies are doing pins. Here are the exclusives themselves: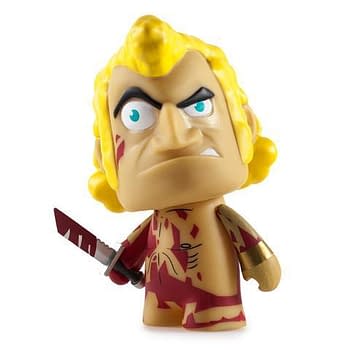 The Venture Bros. Bloody Brock 3-inch mini-figure: $11.99 South Park The Bard 3-inch mini-figure: $11.99 Andy Warhol Space Fruit: Lemons 3-inch Dunny: $14.99 Bob's Burgers Badder Tina Medium Figure: $49.99 The Simpsons Mr. Sparkle Pink Medium Figure: $ 49.99 Arcane Divination Gold Wheel of Fortune 3-inch Dunny: $14.99 Powdered Toast Man Medium Figure: $49.99
And three pin sets: an Adult Swim Pin Four-Pack (love the Meeseeks!) for $19.99, and Beefsquatch and Kid Robot pins for $6.99 a piece. Now, you can order these right now, but the catch is that you have to be going to the show itself. You preorder on here, then take your order confirmation, ID, and badge with you to get them. Only you yourself can pick it up. There is no word on quantities available for preorder, nor whether they will be made available after the show yet.