Larian Studios has brought their beloved RPG Divinity: Original Sin II – Definitive Edition to the Nintendo Switch system. The game initially released on PC and received excellent reviews from critics and fans. It also won a BAFTA Games Award for its multiplayer.
And now, fans can take their epic adventure on the road with the Nintendo Switch edition of the game, which is available right now. Players can also transfer their saves between their Steam and Switch versions, so you can actually take your existing game on the go, provided you picked up the Steam version of the game.
Divinity: Original Sin II boasts the following features:
Choose your race and origin. Choose from 6 unique origin characters with their own backgrounds and quests, or create your own hero as a Human, Lizard, Elf, Dwarf, or Undead. All choices have consequences.
Unlimited freedom to explore and experiment. Go anywhere, talk to anyone, and interact with everything! Kill any NPC without sacrificing your progress and speak to every animal. Even ghosts may be hiding a secret or two…!
The next generation of turn-based combat. Blast your opponents with elemental combinations. Use height to your advantage. Master over 200 skills in 12 skill schools. But beware – the game's AI 2.0 is our most devious invention to date!
Up to four-player online cooperative gameplay for the entire game, spanning over 100 hours of award-winning narrative.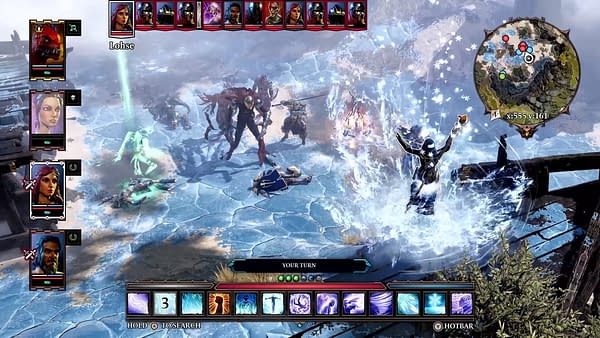 The Switch version of Divinity: Original Sin IIlaunches alongside the second Gift Bag of free DLC for the game which includes:
Crafter's Kit

Plenty of new recipes and unique items to craft!

Endless Runner

Find a new icon in your Hotbar which you can use to toggle sprint on and off. Sprint increases the movement speed of your party and the movement speed of your followers.

Animal Empathy

Allows all player characters to talk to animals without having to spend a talent point. Also changes Pet Pal talent to grant maximum positive attitude in all conversations with animals.

Fort Joy Magic Mirror

Manifests a Magic Mirror in the Arena of Fort Joy, along with a new Character Creation level. This allows you to respec before moving on to the next act of the game.

8 Action Points

Increases the base maximum Action Points of hero characters to 8.

Herb Gardens

Plant your own herb garden! Take any herb and combine it with a bucket to create a seedling. Then place your seedling in the ground and watch it grow.
Divinity: Original Sin 2 – Definitive Edition is available today for $49.99 USD on Nintendo Switch. You can check out the Switch launch trailer below.
Enjoyed this article? Share it!