Legendary Pokemon Kyogre is Now Available in Pokémon Go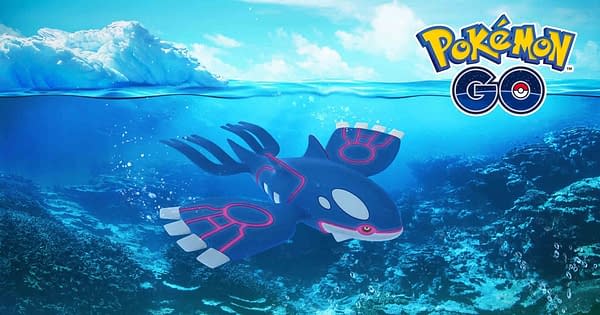 Niantic Labs has announced that Legendary Pokémon Kyogre has been released into the wilds of Pokémon Go today. According to Pokémon Go's official website, Kyogre will begin spawning in raids today and will remain in the game until 1 p.m. Pacific Time on February 14th. So you have from now until Singles Awareness Day to pick up your own legendary whale Pokémon.
Kyogre is best known as the mascot of Pokémon Sapphire and is the second of the Legendary Weather Trio to make it into Pokémon Go.
In a separate announcement, Niantic has rolled out a new weekly event called Pokémon Go Community Day. The event will offer bonuses for a few hours and focus on a specific Pokémon each week. The first community day will be January 20th and will offer a Pikachu who knows the move Surf. The event will run from 12 p.m. to 3 p.m. JST in Asia, 10 a.m. to 1 p.m. UTC, and 11 a.m. to 2 p.m. PST.
Kyogre follows the release of 50 generation 3 Pokémon in Pokémon Go last month as well as a new dynamic weather system, followed by an additional 20 water and ice-type Pokémon that appeared as part of the game's Holiday event. Kyogre is the second Legendary Pokémon from the Hoenn region to be available, following Groudon, who was added to the game last month and will remain until January 15th.
However, given the Pokémon Go community's recent rebellion against the EX raid system, this one might not play out the way Niantic expect it to. That said, it does not appear that Kyogre will only be available through EX raids.