Hello there, loyal readers and fans of Magic: The Gathering, the hit trading card game by Wizards of the Coast! Our tabletop writer has begun writing about various creature types in Magic, but there's one particular race in the game that merits special attention, namely due to its lack of creature type representation. This abominable cabal of metal-and-flesh hybrids have but one goal: to "compleat," or in more basic terms assimilate, any living being into a grand, Machiavellian design of joining alloys with skin and bone to create more beings like themselves. We are talking, of course, about the Phyrexians.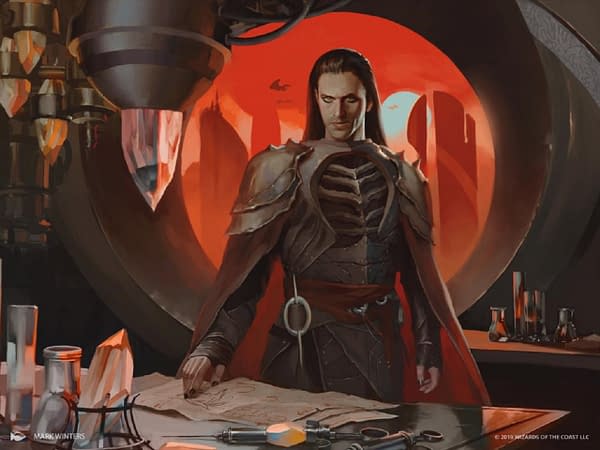 The "Old" Phyrexia In Magic: The Gathering
To best explain the existence of Phyrexians, we need to venture back ages and ages before any of the primary storyline of Magic: The Gathering even really began. On the plane of existence known as Dominaria, there existed a major empire known as the Thran. These people were remarkably advanced technologically, and things seemed to be going quite well for the Thran Empire until Glacian, their master artificer, fell ill with a disease called phthisis. This disease was caused by radiation emanating from powerstones, the Thran Empire's main power source. Glacian was unable to be healed by any amount of clerical magicks, and to make matters worse, fell even more ill as they were administered.
Enter Yawgmoth. Glacian's primary physician and the "Ineffable" catalyst to begin the millennia-spanning story of Phyrexia, sought a cure for Glacian. However, he also lusted after Rebbec, Glacian's wife. Yawgmoth, with the help of the Planeswalker Dyfed, stumbled upon many different worlds, and finally found a way to Phyrexia, an unnatural or artificial plane of existence.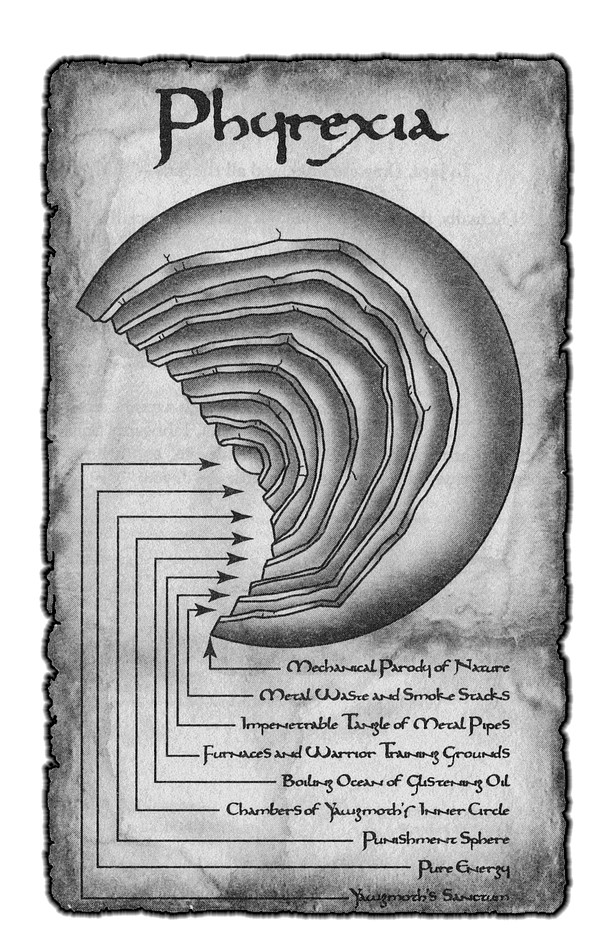 There is a very good reason that Phyrexia is known as the Nine Hells. There are nine spheres, each one nested within the one before it. However, it was not nearly as hellish as it was at the end of the story. Yawgmoth marveled at this place and instantly aimed to make a refuge for the Thran Empire to thrive within, as they tried to save themselves from the debilitating plague of phthisis. Yawgmoth built the first infirmary there and named it Gamalgoth, before acting to attempt to save these Thran refugees with a counteracting disease to the phthisis, called Phyresis.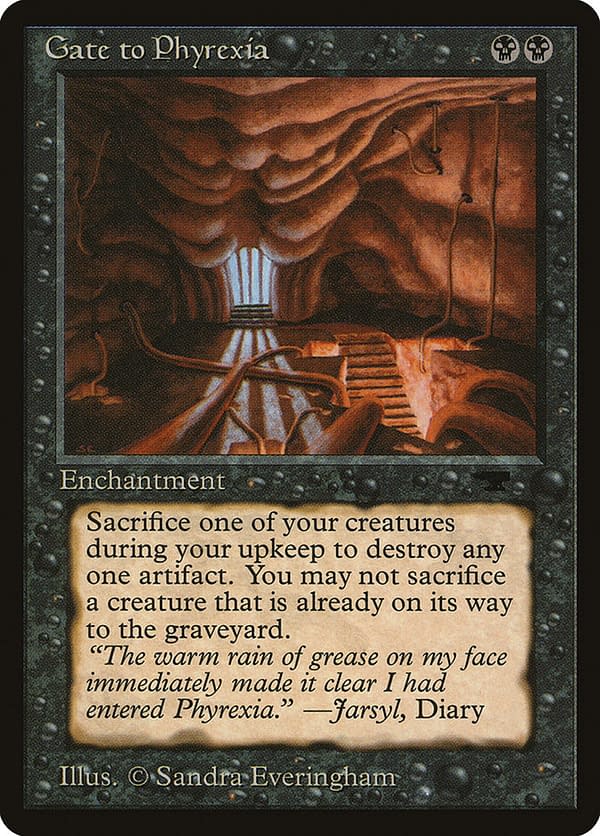 Eventually, the Thran branded any refugees in Phyrexia as traitors, and war soon broke out. The Thran Empire lost their nation at this time. However, Glacian managed to close off a portal between Dominaria and Phyrexia with the help of Rebbec, and Yawgmoth was trapped for five millennia. During this time, Yawgmoth used his magic and any sciences at his disposal to plot revenge on Dominaria.
There is much more to tell of this story, and it will be told in due time, but for now, let us know what you think of this story column in the comments below! We would love to hear any constructive input.
Enjoyed this article? Share it!