Magic: The Gathering's preview season is back in full swing! It feels a bit too soon after Ikoria: Lair of Behemoths' preview season, and yet here we are. After a slight delay due to solidarity with the National Day of Mourning in the United States, Wizards of the Coast began their preview season for Core 2021, the new expansion set for Magic, this past Friday.

We have a bit of catching up to do – there were a few previews this past weekend that people may have missed, so let's get right to them!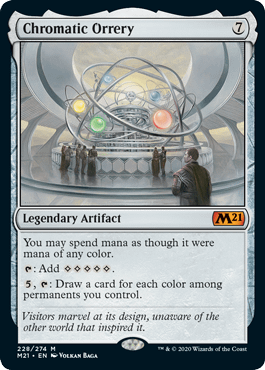 First off, we have Chromatic Orrery. Initially revealed by Jimmy Wong and Josh Lee Kwai of "The Command Zone" on YouTube, this card can safely be called absolutely bonkers. Back when Magic: The Gathering first was starting out, players would be lucky to get a 4/5 artifact creature with Trample for the mana cost of this card. In essence, this card from Core 2021 has a high mana cost but refunds five out of the seven mana you put into it immediately, fixes your colors completely, and brings you up by five mana the following turn! The draw effect is also remarkably strong – being able to draw five cards for five mana is nothing to sneeze at.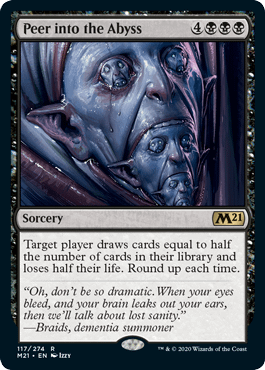 However, if drawing a flat five cards for five mana is a bargain, Peer Into The Abyss is practically a robbery. Sure seven mana (once again, that lucky number!) and half of one's life total is a hefty amount for card draw, especially without more mana to use later on. However, to draw half of the cards in your deck, that cost is relatively low so long as you can protect yourself in the meantime. And for some, this amount of draw could also mean a near-equivalent amount of discard without something like a Reliquary Tower in play, but that's honestly nothing. Peer Into The Abyss is a fantastic card.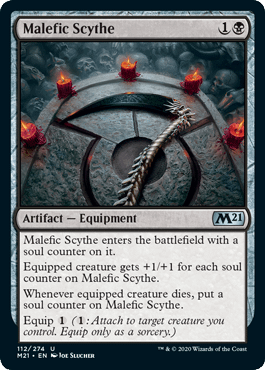 Malefic Scythe is a card that merits a deeper dive to really get to understand. Its ability is slow as molasses and, offhand requires a big investment to get rolling, but to make a creature huge at the cost of a few dead creatures before it seems very strong. As it were, it plays nice with both Phyrexian Altar (for that brutal, loner-style finish) and Netherborn Altar, if you're impatient and you want more souls on the Scythe faster (and have a Nesting Grounds in play).
We will have more articles pertaining to previews as the days roll in, so keep your eyes peeled for any new updates!
Enjoyed this article? Share it!