Masters of the Universe Fans are Going to Want This Orko Statue
Masters of the Universe fan favorite Orko has a new statue coming this summer. It will be done in collaboration between Sideshow Collectibles and Tweeterhead Studios. There will be a regular edition and a limited edition version of the statue, with the limited edition version coming with a swappable arm holding an open spellbook.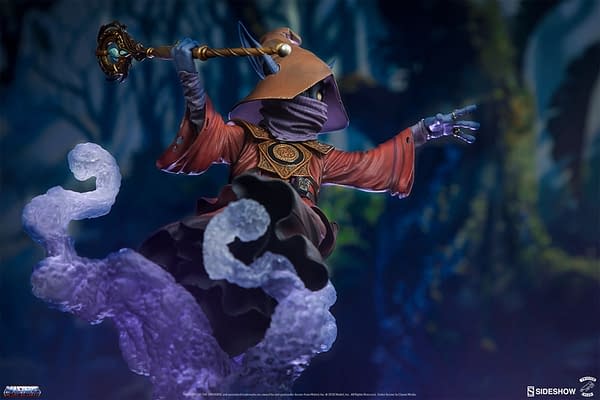 "Magic, don't fail me now!"

Developed and manufactured in partnership with Tweeterhead, we are proud to present the newest magical addition to the Masters of the Universe collection, the Orko Statue!

Measuring 14.5" tall, the resin Orko Statue captures the Trollan hero in a moment of successful spellcasting. With an ornate wand in hand, Orko levitates as a plume of magic billows from his base inspired by the halls of Castle Grayskull.

Known as Orko the Great on his homeworld, the Trollan has been given a stylish aesthetic update featuring intricately detailed armor bearing his iconic "O" symbol. Orko is wearing his iconic red robes, sculpted to show fluttering movement as he hovers. A pointed hat and purple scarf conceal his face as is customary of the secretive Trollans, and decorative rings and magic pouches complete the spellcaster's signature look.

The Orko Statue stands in scale with the other statues in the Masters of the Universe collection. Pair Orko with the He-Man Statue and give Prince Adam a powerful ally in your MOTU display.

The Exclusive edition of the Orko Statue features an exclusive swap-out hand holding an open spellbook, the pages of which include some Masters of the Universe Easter eggs for the most eagle-eyed spellcasters.
Orko has always been one of my favorite Masters of the Universe characters, so seeing the character getting such a cool re-imagining is really special to me. Orko looks badass here! I love the rings on his fingers, the details on the staff, the rolls in the robes. The amount of detail on the spellbook pages is amazing, as well. I will for sure be getting the limited version. For a negligible price difference, there is no reason not to.
You can preorder the Masters of the Universe Orko statue from Sideshow Collectibles and Tweeterhead right now here.