Pioneer Format Ban List Updated – "Magic: The Gathering"
This past weekend, it was revealed that Pioneer, the newest format to grace the Magic: The Gathering collectible card game, would be receiving updates to its ban list every Monday. Yesterday, November 4th, was the first day that the updates started rolling out.
This update took a bit of time for Wizards of the Coast to write up. We the players were told by Aaron Forsythe, Vice President of Design for Magic, that the updates would be announced after their lunch break, but we didn't see much of anything (save for memes) until roughly after dinner. Could it have been all the Food?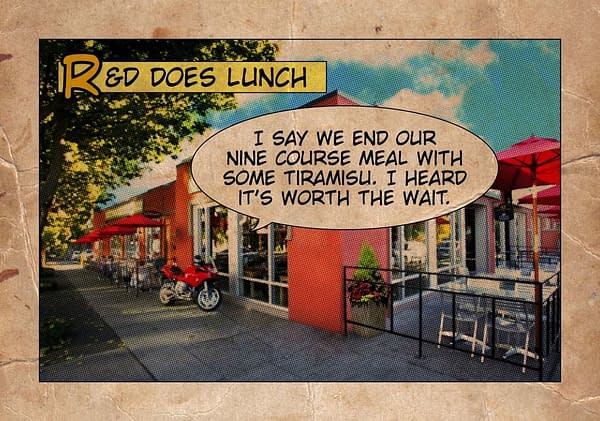 As Aaron Forsythe writes in a Tweet:
Joking aside (goodness knows we have had our fill of that for one article), here are the announced bans for Pioneer:
Announcement Date: November 4, 2019

Pioneer:

Felidar Guardian is banned.

Leyline of Abundance is banned.

Oath of Nissa is banned.

Tabletop Effective Date: Nov 8, 2019

Magic Online Effective Date: Nov 5, 2019

The list of all banned and restricted cards, by format, is here.

Next Pioneer B&R Announcement: November 11, 2019
Felidar Guardian, a card that for many needs no introduction, is banned because of how easily it combos out with Saheeli Rai, a card within the same block (Kaladesh block) and one that has enacted many, many combos with it in the past. This oversaturated the early meta for Pioneer and made sense to ban in the first place.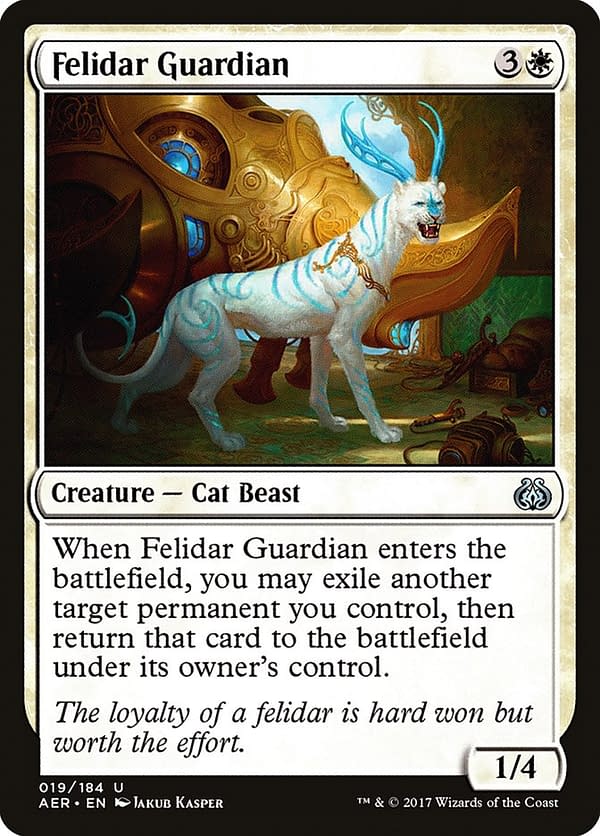 Leyline of Abundance and Oath of Nissa got banned simply for the sake of quelling Mono-Gree Devotion decks, which had also had a strong showing out of the gate. Leyline, interestingly enough, is a case where it probably would not have been banned if it had only one green mana in its mana cost, leading to an instance where a card which would have normally been better actually being made worse by a more efficient mana cost. Oath of Nissa also had the propensity to open the floodgates for Planeswalker decks being far too powerful (which isn't exactly to say they aren't already, but Oath of Nissa would throw them over the top).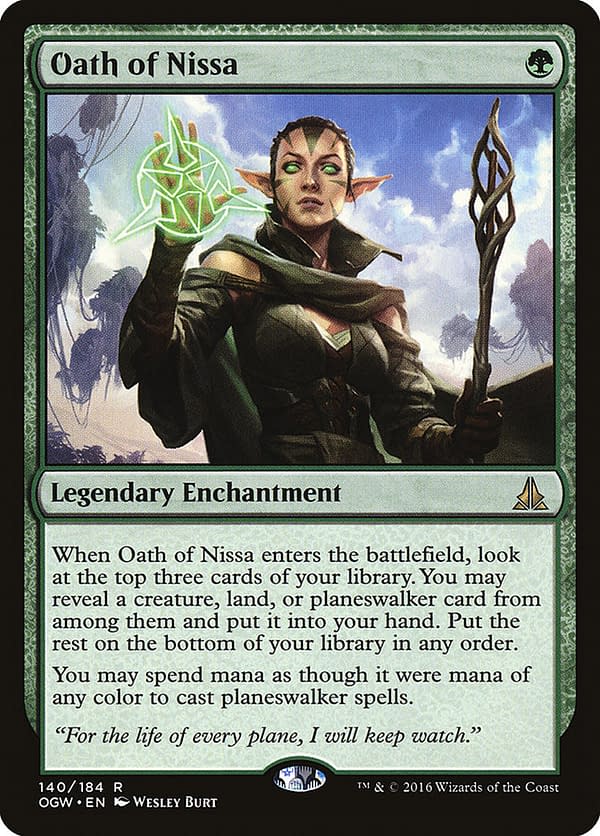 And for those wondering, Magic: The Gathering R&D favored Qdoba for lunch yesterday. Take that, Chipotle!