Q-Workshop Releasing New Pathfinder & Starfinder Dice For Paizo
Today, Paizo has announced that Q-Workshop, a renowned producer of polyhedral dice sets, is releasing not just one, but three sets of dice in partnership with the role-playing games company. The dice are themed after some newer Pathfinder and Starfinder campaign modules, also known as Adventure Packs – Pathfinder: Extinction Curse, Starfinder: Attack of the Swarm!, and Starfinder: The Threefold Conspiracy.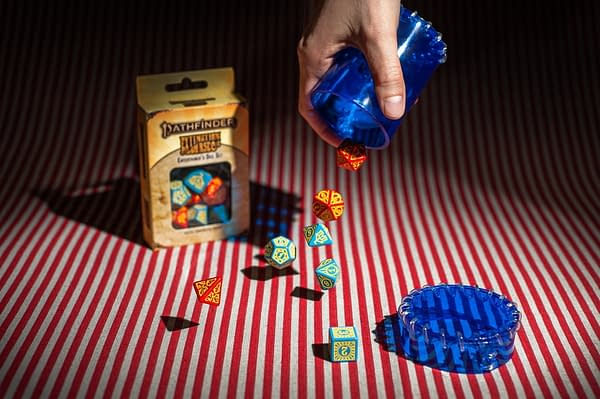 Under licensing from Paizo, Q-Workshop is creating these three sets of seven polyhedral dice (with the usual array of sides – d4, d6, d8, d10, d100, d12, and d20). They will be made of a durable plastic material and be engraved with "precision" designs on their many faces.
The polyhedral dice from the Pathfinder: Extinction Curse set are available via online purchase as of today, April 23rd and will have a manufacturer-suggested retail price of $13.00 USD. The dice are blue, red, and yellow and feature intricate engravings, with the highest-numerical face showing a circus tent.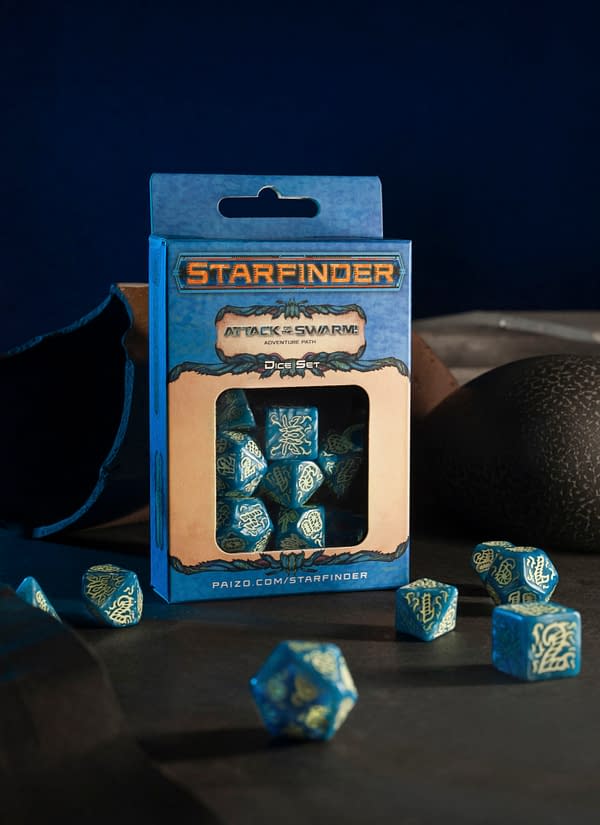 The polyhedral dice set themed after Starfinder: Attack of the Swarm! is a pale blue, with an additional cloudy admixture that "resembles mist covering dangers, coming out of the blue." The faces are engraved with pale yellow-painted numbers that are meant to resemble larval aliens. The highest-numerical face is emblazoned with symbols of The Swarm, the enemies of the campaign module. These dice will be available as of tomorrow, April 24th, and will have an MSRP of $13.00 USD.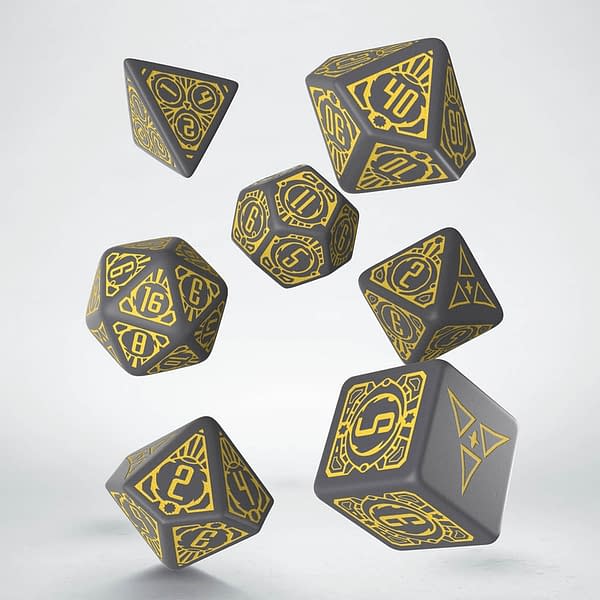 Finally, the polyhedral dice themed after Starfinder: The Threefold Conspiracy will be releasing near the end of the month, on April 29th, and have an MSRP of $13.00 USD as well. They will be a dark grey color and have yellow engravings on them, geared to look as though they came out of a science-fiction thriller film. On their highest-numerical faces, the dice will have an insignia that is meant to symbolize three aspects of the Threefold Conspiracy itself.
What do you think of this release? Does it look fun and immersive? Do these dice make you want to play Paizo's games even more? Let us know what your thoughts are in the comments below!