Real Ghostbusters Invade The Playmobil Ghostbusters Line!
Real Ghostbusters is one of the all-time best cartoons. Playmobil knows this and has went ahead and added Real Ghostbusters to their very successful line. All four Busters come in sets with a vehicle, ghost, and accessories. Today we will take a look at the Venkman figure set they were nice enough to send over, which comes with a helicopter and ghost!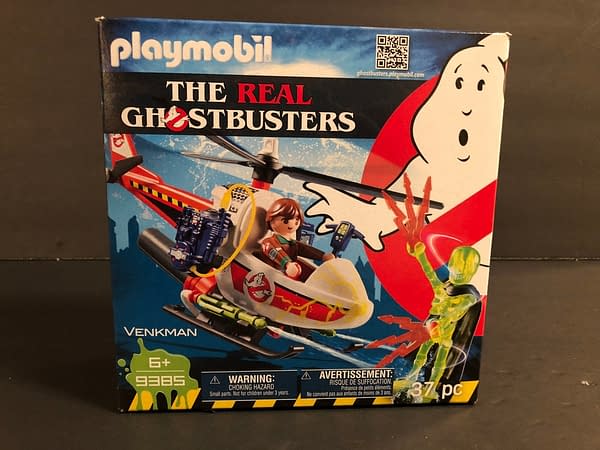 I love the box art on these figures. How iconic is the Ghostbusters logo? It has to be one of the only ones you can show someone and they instantly know what it is without a title or prompting. The vehicle is shown in action spraying water out of the cannons on the bottom at the ghost, and it just really grabs the eye. Neat stuff.
Assembly-wise, it takes no time at all. the only part that really took me anytime at all were the stickers because I have be adult fingers. Other than that, everything is high-quality and snaps together very easily. The Venkman figure fits perfectly into the cockpit of the helicopter, and I love that all of his accessories have a place to go on the vehicle. The ghost is made of a sweet-looking green translucent plastic that pictures do not really do justice. I love the look of his cape, but it moves around a bit too much. I wish it had shoulder pegs to hold it in place better. his energy blasts stay firmly in his hands but in certain positions it throws off the balance of the figure and he falls over. So the ghost is overall just ok.
As a package though, this is great. Real Ghostbusters has not gotten as much love as it should as of late, and I am happy to add this one to the collection. Now I just have to get the other three sets. With each coming with a different ghost and vehicle, the play and display options are endless. You can order some of these right here now.