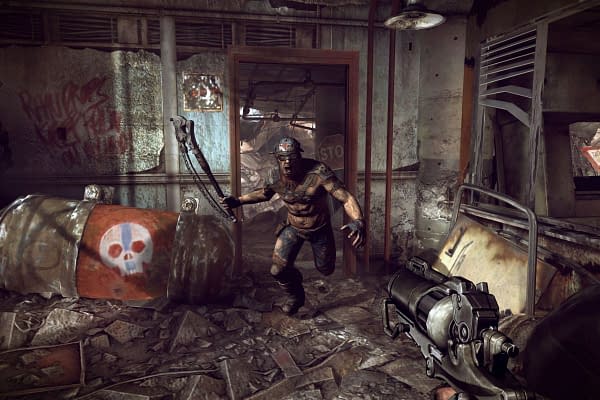 Walmart Canada may have lost its mind earlier today by adding listings for a number of unannounced games on PS4 and Xbox One, but while most companies have been rather quiet about the potential leak, Bethesda's social media teams seems to be having a ball with the rumors. The official RAGE twitter account mocked Walmart in a couple of tweets by critiquing the listings' lack of key art, age rating, and font, which was then followed up with tweets from the official Bethesda account as well as Bethesda Marketing SVP Pete Hines.
You can check out the tweets below so we're all on the same page before we get to my wild theory.
Hey @WalmartCanada here are a few notes. pic.twitter.com/R1od2aTEMC

— RAGE 2 (@rage) May 9, 2018
Dude.

— Bethesda (@bethesda) May 9, 2018
This is why we can't have nice things. https://t.co/ZhOHGsITfp

— Pete Hines (@DCDeacon) May 9, 2018
The Rage account has even made their Photoshop travesty into their Twitter profile image and header.
All of this has us wondering if they might also be teasing us with a possible Rage 2 confirmation. Okay, sure — the tweets neither confirm nor deny the game's existence, but the whole thing has caused the Rage twitter account to reactivate, which might indicate something. The account's only listed tweet is the one above, and the account has been on Twitter, but inactive, since 2009.
Plus, Bethesda does need stuff to announce at E3 next month. And no, having us buy Skyrim for the 10th time just wouldn't cut it. Rage 2, on the other hand, just might.
Enjoyed this article? Share it!