Street Fighter favorite Akuma is the latest character from Street Fighter 5 to be coming from Storm Collectibles. He will be shipping in March for the price of $70. Three interchangeable heads along with many sets of hands will be included, along with gohadoken effect. There will also be a stand included.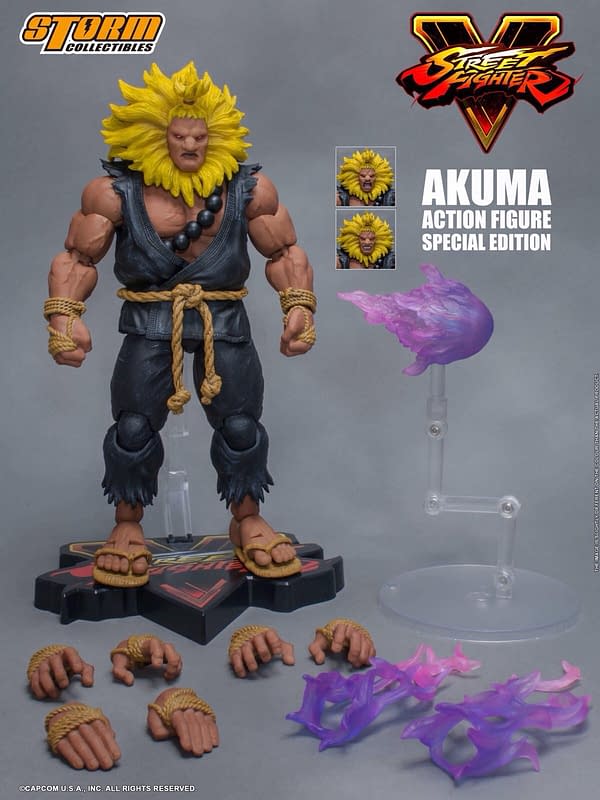 AKUMA (named as GOUKI in Japan), has a new transformation with longer hairstyle and his traditional dark blue Gi, in Street Fighter V, Akuma possesses quicker footwork and more devastating combos. The 神人 "shin" kanji is seen on his back of the Gi when performing the Shun Goku Satsu.

The figure set includes:
3 x Interchangeable Head Sculpts
8 x Interchangeable Palm
1 x Gohadoken Effect
2 x V-Trigger Effect – Dohatsu Shoten
1 x Stand with Street Fighter V Logo

Bonus item: Additional Gi with 神人 "Shin" kanji at the back

Available for pre-order now!
These figures are pretty awesome. They always knock the sculpt out of the park, and this one looks to be no different. The articulation is always top notch as well. While I do not own any of their Street Fighter offerings (yet), I have held them in my hands and they are as good as advertised. I do own their Hollywood Hogan Ringsdie Collectibles exclusive and am extremely happy with it. Akuma is one of my go-to plays in the series, so this will probably be the one that finally gets me to purchase one of these.
Street Fighter Akuma is up for preorder now. You can order one of these for yourself and see more info here.
Enjoyed this article? Share it!