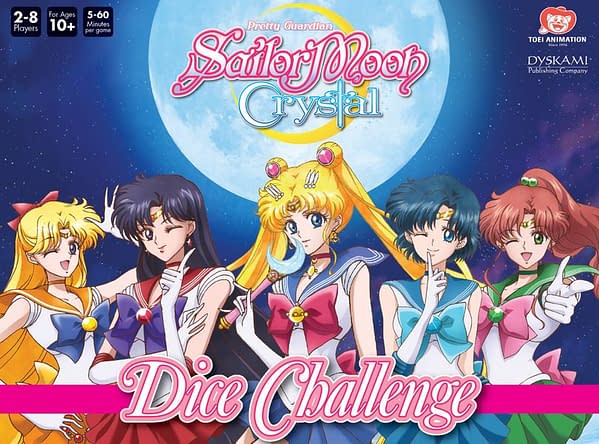 Japanime Games has entered into a distribution partnership with Dyskami Publishing over Dyskami's line of Sailor Moon Crystal talbetop games. The games are based on Naoko Takeuchi's manga series and the new anime from Toei Animation, and they tell the story of Sailor Moon and her fellow Sailor Guardians as they battle to stop evil forces.
The partnership will take effect this year, which will see the release of two new Sailor Moon tabletop games: the Season 3 expansion for Sailor Moon Crystal: Dice Challenge and a new tile-passing game of deception called Sailor Moon Crystal: Truth or Bluff.
More games in the Crystal line are in development with releases planned for later in 2019 and throughout 2020.
"We are delighted to partner with such a well-respected company as Japanime Games to help bring our line of Sailor Moon Crystal board and dice games to a much wider audience," said Dyskami Publishing Company President, Mark MacKinnon. "Working with the Japanime Games team will allow us to focus more on the creation of great new Sailor Moon Crystal games, while simultaneously offering enhanced customer service and communication. Everyone wins with this partnership."
"We are excited to join forces with Dyskami to bring these great titles to our fans," said Japanime Games President, Eric Price. "Dyskami has done an excellent job of creating games that will appeal to Sailor Moon Crystal fans and Japanime fans alike. We will be soliciting to our distribution partners very soon, with an expected retail release in early summer 2019."
Enjoyed this article? Share it!