Ubisoft Unveils a New Mario + Rabbids: Kingdom Battle Donkey Kong DLC Trailer
Ubisoft took a moment during their E3 press conference to show off a new trailer for the Donkey Kong DLC for Mario + Rabbids: Kingdom Battle. Donkey Kong Adventure received a full musical treatment during the event. It was really awesome to check out live, but here we have the full trailer and the description of the DLC that the company released right after the performance. The DLC looks like it's going to be really fun, and it's exciting to see the company is still expanding on the game almost a year after release.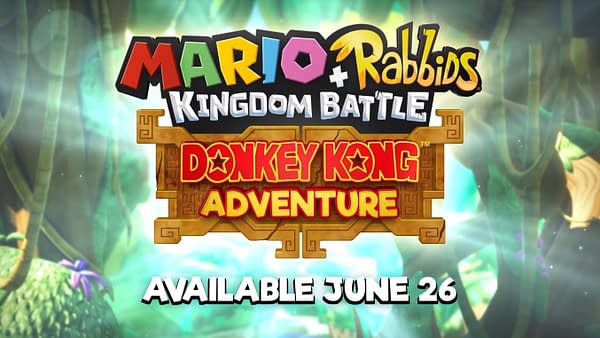 Embark in an epic battle against a vengeful Rabbid Kong who uses his new powers to take over a mysterious island. Donkey Kong, Rabbid Peach, and a moody new Rabbid hero, Rabbid Cranky, will team up on a journey across four brand-new environments. Discover a world full of reinvented tactical gameplay, new enemies, and secrets to uncover. Donkey Kong Adventure introduces new gameplay elements, with one of the biggest being DK's grab-and-throw skill. Giving him the ability to pick up and throw enemies, allies, explosive sentries, or even pieces of cover around the map, it opens up new ways for creative players to devastate their enemies.