Rockstar has announced that Red Dead Redemption 2 is going to be getting a brand-new trailer this Wednesday.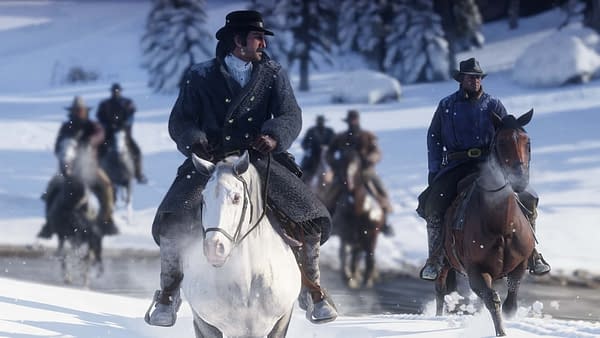 Red Dead Redemption 2 is undoubtedly the biggest game coming this year. Any major game from Rockstar is always going to be a huge proposition for the market, especially as we have seen the lasting impact of GTA V. That game is huge, and it will be fascinating to see just how well Red Dead Redemption 2 can do opposite of it. However, things have been a little quiet on Rockstar's front since it was announced the title was getting delayed a second time.
Well, it seems it might be about time for that silence to be broken. Rockstar has announced that the game will be getting a brand new trailer this Wednesday. That is May 3rd, 2018, and it will land at 11 a.m. Eastern time. Here is the tweet, which comes with a nice little motion graphic too:
Red Dead Redemption 2
Official Trailer #3 Coming Wednesday, May 2nd at 11AM Easternhttps://t.co/lyuQK8oTi2 pic.twitter.com/7ZuW0b1wEQ

— Rockstar Games (@RockstarGames) April 30, 2018
This feels like the right time for the next trailer. We genuinely are in the final stretch of the game, with only a couple months between now and us putting the game into our systems for the first time. Excitement is understandably high, but also, we are still relatively in the dark about the story and characters in the game past it being a prequel. Hopefully, this upcoming trailer will tell us a little more about what is going on.
Enjoyed this article? Share it!