What's In The Box?! Loot Gaming – February 2018
Probably one of the more awkward shaped boxes we've received from Loot Crate, this week we received the February subscription box from Loot Gaming ready for us to review. The last time we got an oddly-shaped box it contained a pretty nice Funko figure inside, so we couldn't wait to crank this one open and see what they had in store for us this time.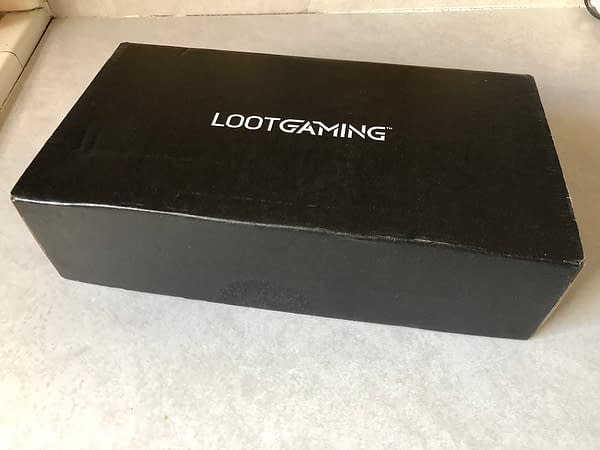 This month's theme is "Boss Battle", or Platforming Games for a more general approach. The first item out of the box are these Super Mario Bros. coasters. While they're labeled as the Bros., the white coaster with the feather is a clear indication this artwork is taken from Super Mario World. These are some pretty decent acrylic coasters with the feather, mushroom, fire flower, and golden star designs all properly displayed so people can pick their favorites. The only drawback is that they don't have a cork bottom like other coasters normally would, so you need to be a little extra careful with them to make sure they don't scratch up whatever surface they're on. Beyond that, these are great!
Next up is this month's pin, which takes a page from Sonic The Hedgehog (as a few more items will) by being one of the Chaos Emeralds. We got the blue emerald, but there was a random chance of getting any of the seven colors with no rarities. You can buy all seven at the loot vault if you really want to, but each one is a candy plastic design with a metal stopper on the back. I wish the Loot Crate pins would switch over to a rubber stopper to prevent scaring and torn clothing with the metal backs, but we have to make due with what we got.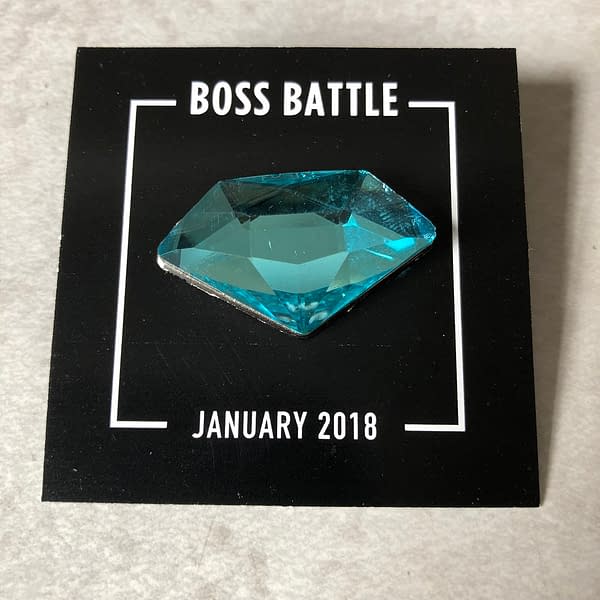 Moving onto the item that made the box as shaped as it was, we got ourselves a metal lunch box with Earthworm Jim on the lid. The cover is actually that of a poster that used to come with the SNES copies of the game, with Jim and the logo poking out of the frame a bit. The rest of the box green and black with silver trim, and nothing additional inside. (Which is kind of sad since it would have been nice to see a thermos included.) Honestly, I'm of two opinions about this. While it is a cool lunch box design and it's nice to have one for the series, the recent activities of Earthworm Jim's creator have kind of soured us on the series as a whole. 12-year-old me would have been all over this, but present-day me doesn't really want it.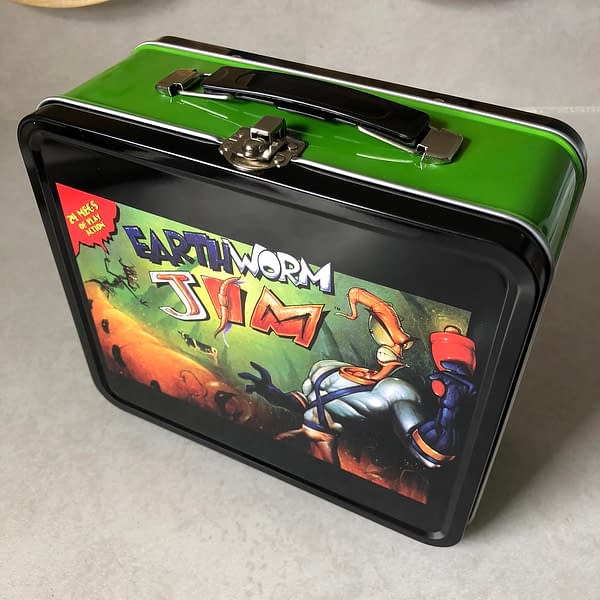 Going back to Sonic for the next two items, the first is this Dr. Eggman collectible figure. He doesn't really do anything except pose in mid-air, but this is an awesome design of him inside the Egg Mobile, waiting for Sonic and his friends to drop by as he unleashes his next robotic creation on them. While the figure itself is awesome, putting him together was a great challenge because the version we got had a misshapen peg. It fits into the base just fine but was too big to fit into Dr. Eggman so he could sit in it. We nearly cracked the base getting him to stand up and ended up taking a blade to the stand so it could fit properly. A bit of a disappointment putting him together, but a nice addition to our shelves once he was done.
The poster this month is simply a 3D level design from Sonic The Hedgehog but presented in a way that looks more like the latest Sonic game, Sonic Forces. The poster is pretty cool and is a nice addition to any wall, but like all Loot Gaming posters, we're not a fan of the folded poster look that we now have to iron out so it looks better. Here's hoping one day they make a way for it to be rolled up.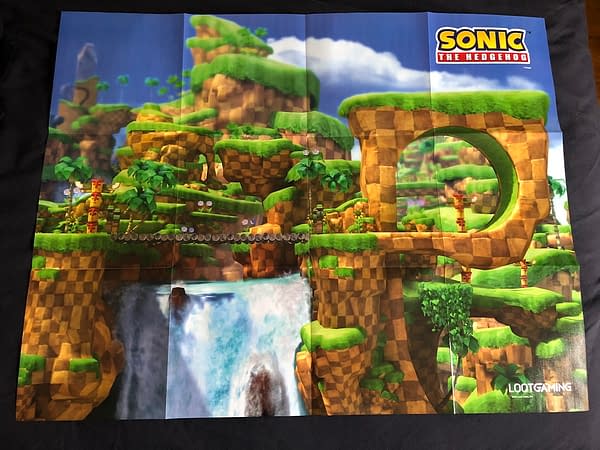 Finally, the make or break item for the box: the t-shirt. This month is a colorfully designed character shirt for Conker's Bad Fur Day. The characters are set up and presented in a way that mimics Disney Afternoon cartoons of the early '90s. This is actually a really tight design that makes me smile looking at it, designed to give every character their own highlighted moment while not overshadowing each other. Even the Panther King looks great in comparison to a worried-looking Conquer. No real complaints about the short, this one is a winner!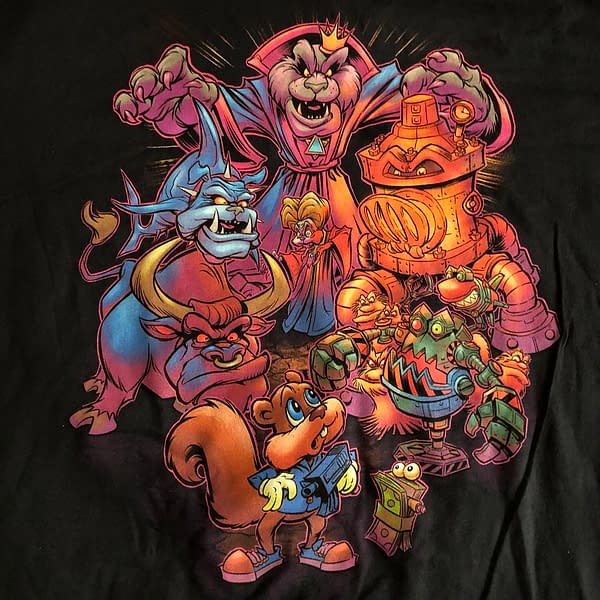 Overall, the box was pretty good, but not amazing. Even when we discount our feelings about Earthworm Jim at the moment, everything but the t-shirt had a bit of a flaw in it. When you get stuff in a box and there's nothing to worry about or be concerned with the minute you open it, that's when the box is a winner. When you have to worry about scratching up a table, ripping clothing with a pin, and needing a knife to make an item work; those are the kind of things that can be off-putting. This month's box isn't a bad box, but it definately had some rough edges that could have used a little bit of care and sanding before they were shipped off. Let's see how March pans out for us next month!