Wolverine Life-Size Bust Preorders Available Tomorrow from Sideshow
Woverine is getting a life-size bust. Sideshow Collectibles will be offering a ridiculously awesome bust of The Best There Is at What He Does at a 1:1 scale. He will be in his brown suit, arguably his best. Come to think of it: what is Wolverine's best look? Let me know down below — I am curious what you all think.
The bust captures Logan at his most feral, teeth bared and ready to skewer anything that moves. Made of fiberglass, he will go up for preorder tomorrow afternoon for the low, low price of $995. Really a steal for a collectible like this. My guess is they probably sell out early, so best to click the link in the details below when it goes live between noon and 3 p.m. PST. Check out pics and such below!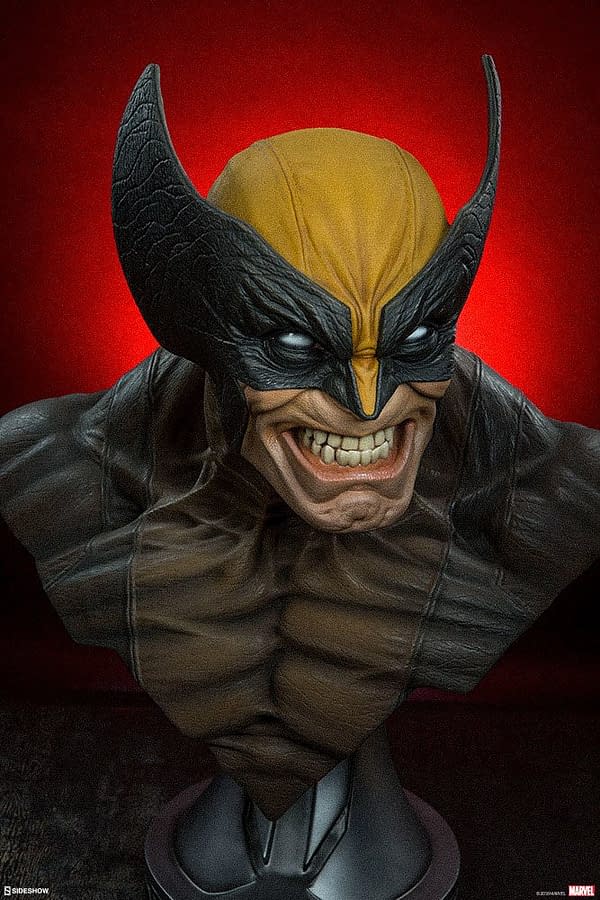 "I'm the best there is at what I do…"

Now he's the bust there is- Sideshow is proud to unleash the Wolverine Life-Size Bust into your Marvel collection. This incredible member of the X-Men has been brought to life in an epic 1:1 scale, straight from the Marvel Universe to your shelf. The Wolverine Life-Size Bust stands over 27" tall, capturing the savage snarl of this mighty mutant. With his teeth bared, this bust captures the ferocity and anger of the Adamantium-infused warrior.

Sculpted with incredible lifelike textures and detail, the fiberglass Wolverine Life-Size Bust depicts the hero clad in his brown and yellow costume with his iconic cowl and white eyes. His muscular shoulders give Wolverine an added presence, as if he could leap off the stand and start slashing with a quick SNIKT!

Bring home your very own Weapon X today! Claw out a space in your Marvel collection for the Wolverine Life-Size Bust or you might regret it, bub.

Pre-orders for the Wolverine Life-Size Bust begin on Thursday, June 7th between 12pm-3pm PST, and will be priced at $995.00.