Scream Factory, an imprint under the Shout Factory umbrella, has been putting out awesome collector's edition of classic and hard to find horror, sci-fi, and cult movies for years now. They are one of my favorite imprints, because they care and put all they have into the gathering of special features and talent to really get under the hood and find out everything about the films they release. Their complete Halloween box set is one of the crown jewels of my collection. So whenever they announce a new release, I am usually pumped.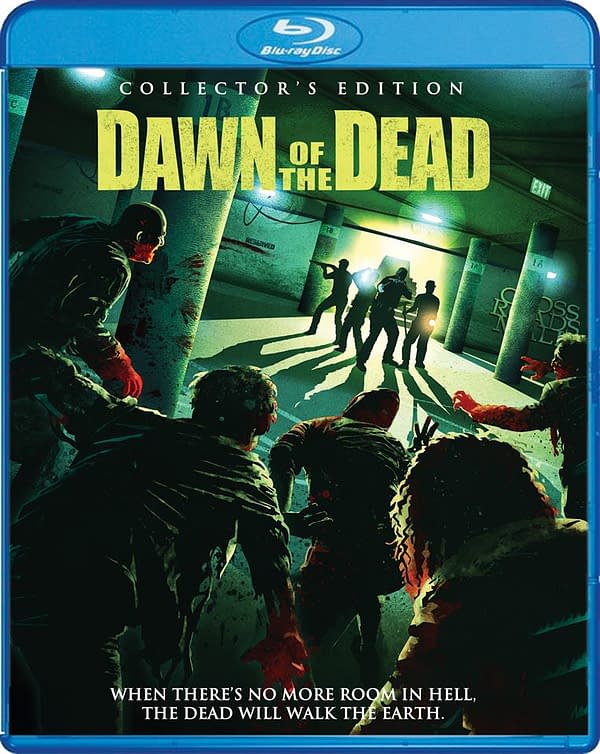 Yesterday we announced George A Romero's Land of the Dead and today we bring you even more zombie action in the form of Zack Snyder's thrilling 2004 remake of DAWN OF THE DEAD!

Project is still in progress but here's what we can tell you so far:

– The Blu-ray release will be branded as a "Collector's Edition" that will come with a slipcover (guaranteed for three months after its original release date.)

– The newly-commissioned front-facing artwork you see pictured comes to us from Nathanael Marsh (Carrie, The John Carpenter steelbooks). The reverse side of the wrap will showcase the original theatrical poster art design.

– Bonus features & specs are still in progress and will be announced sometime in Sept but we can confirm today that this will be a 2-disc set and will sport new extras (including interviews with Ty Burrell, James Gunn, Jake Webber, David Anderson & Heather Langenkamp Anderson) plus the theatrical and unrated versions of the film.

– Official street date is 10/24/17. However, if you pre-order now directly from our website @ https://www.shoutfactory.com you'll get it two weeks earlier plus you'll received a free 18" x 24" rolled poster of the newly-designed key art (while supplies last)!
Sold! I loved this version of Dawn of the Dead personally. This is the film that I point to when they say Snyder is just a bad filmmaker. The visual style of this one was fantastic, the cast worked extremely well together, it has the dad from Modern Family in it as a weird creep (Ty Burrell), and the underrated Jake Weber is fantastic in it. it is just a really good, solid horror film.
As stated above, you can preorder now for an October 24 release, and get the awesome key art on the box as well.
Enjoyed this article? Share it!