 Well, we finally made it: Star Wars Celebration 2017 begins this week on Thursday, and I for one could not be more excited. This will be my first, and one of the things that worries me about heading to a new convention is that I will miss something because I was not aware it was happening. So, with that in mind, here is a partial list of events, panels, and swag being handed out at the con! This is nowhere near complete, I am sure, but make sure you are following the hashtag #SWCO on Twitter, there is bound to be surprises and such all days and nights of the con.
Ohio Star Wars Collectors Club
The Ohio Star Wars Collectors Club will be handing out patches to form a 20 piece set that forms a C-3Po vintage figure case. It measures over 17" wide! Individual members will have the patches, with the top patch being the club's logo and available only at the Vintage Archive Party, room sales, and the OSWCC booth itself.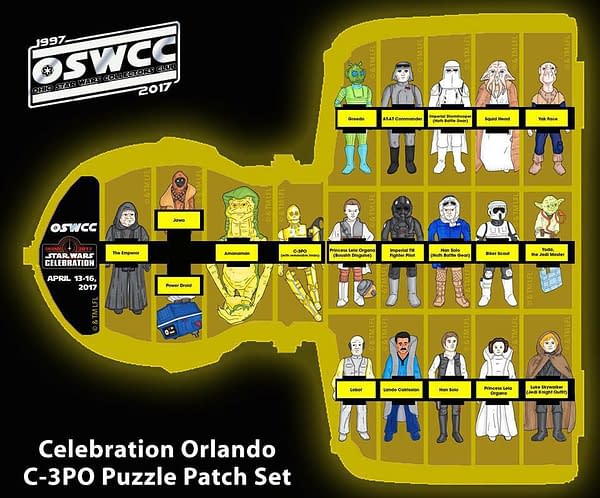 Star Tots
Star Tots return for anyone attending all of the various Collecting Track panels, but make sure you get there early, these things are quite popular and go fast. there will be 20 in all and all of them are Return of the Jedi related. FOr a complete list of Collecting Track panels, click here. Collecting Clubs
6 various collecting clubs will also be giving out patches to form a tribute to the 40th anniversary of Star Wars and the rare Birthday cake poster. Ohio Star Wars Collectors Club, Pennsylvania Star Wars Collecting Club, Washington DC Star Wars Collecting Club, Empire State Star Wars Collecting Club, Star Wars Grand Florida Alliance, and Indiana Star Wars Collecting Club will be participating, and will have them at their booths while supplies last. Their booth numbers are:
DCSWCC – Booth 2053
OSWCC – Booth 2054
PSWCS – Booth 2055
SWGFA – Booth 1112
ESSWCC – Booth 2153
ISCOMM – Booth 2052 Collectors' Podcasts
Star Wars collecting podcasts are once again joining forces to give away a six-patch set to honor the First 12 vintage Kenner figures. Jedi Business (JediBusiness.com), Jedi News (JediNews.co.uk), Jedi Temple Archives (JediTempleArchives.com), Star Wars Action News (SWActionNews.com), and This Week in Star Wars (ThisWeekInStarWars.com) each will be on hand to greet fellow collectors, and during their slots they will be giving out one piece of a six-part patch set featuring vintage Star Wars action figures. The sixth and final patch will be given out at the special Re-Collections: Your Star Wars Story video project. More info can be found here.
Scavenger Hunt
The Collecting Track is also hosting a scavenger hunt. This time it is a photo hunt! Simply get a card from the Collector's Lounge (Room W305) with the list of items. Photograph yourself with each of the collectibles and return to the Collector's Lounge to have all your photos verified by a volunteer. Prizes and medals for the finishers while supplies last!
Black Series Rebels
New Star Wars Podcast Black Series Rebels will have some awesome looking pins they are giving away while supplies last! Check them out here.
If you like it then you've gotta put a pin on it …
On top of the listed clubs, many, many others and even individuals will have magnets, patches, buttons, bottle caps, and many other things that they are either trading or giving away, just for saying hi! It is a great way to get to know people around the con and fellow fans and collectors. Make sure to stop into the Celebration Collecting Track Social Lounge and if you want to see and discuss all of this swag with the people who created it, join the Collecting Track Facebook group here!
-A GIGANTIC list of artists and links to their work at the show can be found here. A fraction of the art can be seen below.
And the rest!
Here you can find all of the various people you can get a tattoo from right on the show floor. 
The Making Star Wars podcast network is taking over Marlow's Tavern on Friday for a night of live shows and laughs. 21 and over only, buy tickets here. Star Wars Action News will be hosting a live show on Sunday from 12:30-1:30 on the podcast stage. Speaking of live podcasts on the Podcasting stage, a full list can be found here.
Join the many women who collect Star Wars toys, props, Lego, etc on Saturday in the Collector's Social Lounge, Room W305 from 1-2P PM. And while you are at it, join their Facebook group! Del Rey will have a ton of giveaways, signings, and much much more! Click here for a complete list. They will also have an exclusive version of the new novel Thrawn by Timothy Zahn that I will elbow you for. Fantasy Flight Games is always a popular booth at cons. Visit here for all of their info. A SUPER helpful guide on the wristband procedures for the biggest panels can be found here
Drowning in Moonlight: A Memorial Gala for Carrie Fisher will be taking place Thursday night. Tickets can be purchased here. Forcechella karaoke will be taking place the night before the con on the 12th. Featuring an awesome Max Reebo pin! A Celebration of Worship, hosted by Hero Ministries, is returning to Star Wars Celebration for our third time. We will be hosting a special Good Friday service of teaching and testimony on Friday evening April 14, 2017. We will be located at the Hilton Orlando in the Lake Mizell Room. Our service will start at 7:30 pm so arrive early to get a seat. We will be ending by 8:30 to ensure that everyone has time to enjoy the remainder of their Friday evening.
And last but certainly not least, come watch me win the first ever Bleeding Cool Pinball challenge Saturday night! Again, this list is FAR from definitive, but there you have some info all in one place. Again: follow #SWCO on Twitter, and be sure to read all of our coverage all weekend here on BC. If you see me there: SAY HI!